Submitted by Bob Bhatnagar on
There are tons of settings and adjustments hidden within iOS 8. The jailbreak tweak AdvancedSettings8 makes it possible to explore these settings and customize every nook and cranny of the system. The word advanced in the title is an understatement. Once installed, users can start playing with values and sliders, viewing the results immediately without a respring.
Settings -> AdvancedSettings8 only contains a toggle to enable or disable the tweak in its entirety. The real magic happens with a long press on the Settings app icon on the home screen. This will bring up a list of around 20 items that contain submenus capable of changing things like gravity, elasticity, mass, and stiffness - just the tip of the iceberg.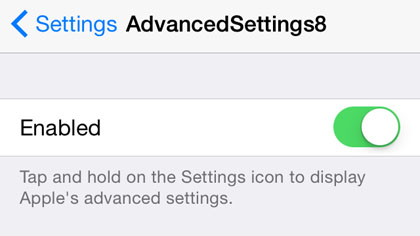 The main list of settings revealed by AdvancedSettings8 is as follows:
Volume
Test Recipe
Parallax
Folders
Icon Animations
Control Center
Lock Screen
App Switcher
CarPlay
Lock Screen Test Plugin
Screen Fade Animation
Alert Items
Notification Center
Legibility
Wallpaper
Icon Adaptive Colors
Home Button
Lock Screen Slide Up Apps
Reachability
Prevent Screen Dim
Animation Overrides
Many of the items are so detailed, they aren't entirely practical. Still, for those looking for complete control AdvancedSettings8 has much to offer. There's even a Restore Defaults button, just in case.
AdvancedSettings8 is available from the BigBoss repository on Cydia for free. To start customizing iOS, click here for instructions on how to jailbreak iOS 8.0-8.1.1 with TaiG. Those with older firmware can check here for details on jailbreaking iOS 7.0 with evasi0n 7. Pangu will jailbreak devices running iOS 7.1. Find out how to purchase and install Cydia tweaks with this guide.
For new tweaks and the latest jailbreak news follow us on Twitter and Facebook.