Submitted by Bob Bhatnagar on
The jailbreak app store Cydia has received a long-anticipated cosmetic update. The redesign launched automatically, so users need only to open the Cydia app to see the changes. The new look brings a clean, flat design to the interface much like iOS 7 and iOS 8.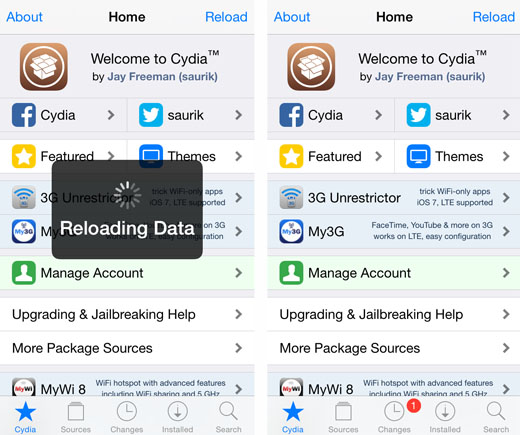 The redesign hits every corner of Cydia, however functionality and options remain the same. The last time the jailbreak app store had a significant redesign was after the launch of iOS 7, when the Sources and Installed tabs were added. The Cydia home screen icon was also updated to match iOS 7.
According to Cydia creator Jay Freeman (@saurik) there are more improvements in the works. Payment related changes and an update to the Cydia Substrate are coming soon. The Substrate update will have an SDK that's easier to use for jailbreak developers. In any case, the new Cydia design meshes well with the most recent versions of iOS.
To start customizing your device, click here for instructions on jailbreaking iOS 8.0-8.1.2. Those with older firmware can jailbreak with Pangu (iOS 7.1) or evasi0n 7 (iOS 7.0). Find out how to purchase and install Cydia tweaks with this guide.
Don't forget to follow the
iPhoneFAQ Twitter feed
and
stay tuned to Facebook
for the latest jailbreak tweaks and news.