Submitted by Marshall Walker on
After launching in Japan in 2014 and soft launching in Canada earlier this month, Final Fantasy: Record Keeper is finally available on the US App Store. The game has been released by DeNA, the same company who will be handling Nintendo's upcoming mobile titles.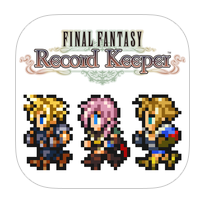 Final Fantasy: Record Keeper is a love letter to the franchise that allows fans to build a party of past characters and do battle with enemies from previous Final Fantasy games. Players can also relive popular Final Fantasy moments as a new story created for mobile devices.
The game features a large roster of past Final Fantasy characters, the classic Final Fantasy Active Time Battle (ATB) system and all the spells, weapons and enemies that made Final Fantasy one of the most popular RPG video game franchises over the years.
Final Fantasy: Record Keeper is a freemium title and does include timers and in-app purchases, but early reviews claim that this does not affect the enjoyment of the game. Players can play through Record Keeper without spending real-world money, according to Touch Arcade. The game has also earned a five star rating from App Store customers in only one day.
DeNA promises that the game will be updated with weekly events where players can play new chapters and unlock limited edition characters, gear and abilities.
Final Fantasy: Record Keeper is available now on the App Store for free. It supports all devices running iOS 7.0 or later.