Submitted by Anders Batten on
Some Apple customers are reporting that they have received a delivery notification stating that their Apple Watch has shipped and it should arrive on Friday, April 24th. Other Apple Watch buyers have received early UPS tracking numbers also confirming some orders will make it to customers' doors by Friday.
The Apple Watch launch has been a confusing affair for most customers. Pre-orders quickly sold out online after opening on April 10, and shipping times have been pushed back a few months. To make matters even more confusing, Apple retail locations will not be receiving any Apple Watch stock until June, but some fashion boutiques will have stock on Friday, according to The New York Times.
Apple sent an email blast titled "We're working on your order" on Wednesday. The email, sent to early Apple Watch pre-order customers, stated that orders would be "delivered between April 24th and May 8th".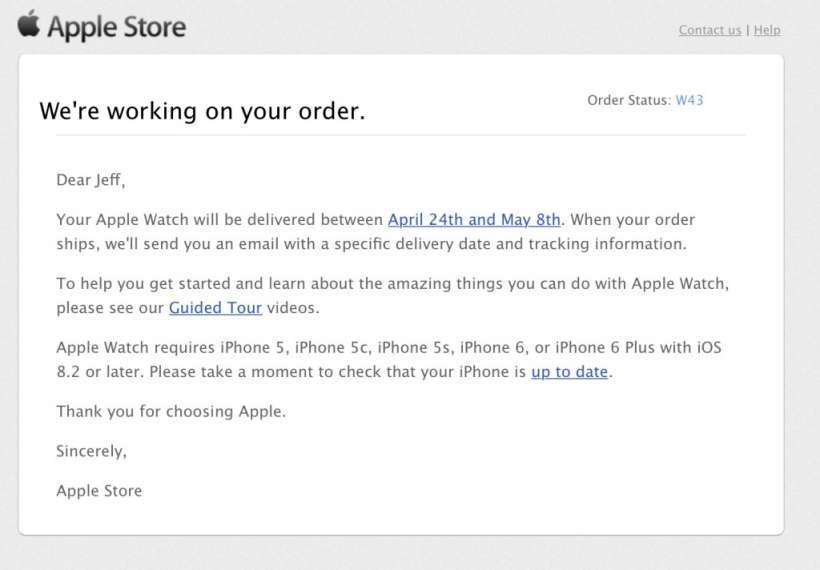 Customers who did not pre-order a Watch will need to hit up boutiques, like Colette in Paris, if they want a chance to get one on launch day. Maxfield in Los Angeles is adverting on their website that the Apple Watch will be in stores on April 24, and so is Dover Street Market in London.