It should be said right off the bat that Wahoo Fitness' TICKR X is much more than just a heart rate monitor. It is more of a complete workout activity tracker/training assistant that lets you monitor your heart and calorie burn rates, as well as both the motion and intensity of your workouts. We recently picked one up to see if it is a worthwhile investment.
The device itself is a 2.75" x .5" x 1.75" pill shaped piece of plastic that weighs 8.5 grams without the adjustable 24" to 48" chest strap. It is solidly constructed around its electronics and CR2032 battery (which is claimed to last 12 months), giving it an IPX7 water resistance rating, which means it is waterproof down to a depth of five feet. This allows you to track your swimming workouts with the TICKR X, which sets it apart from most competing chest strap monitors.
The TICKR X uses both Bluetooth and ANT+ technologies to connect to smartphones and GPS devices. It is compatible with the iPhone 4s and newer, iPad (3rd gen and newer), iPad mini, iPad Air, iPod (5th gen) and the Apple Watch, as well as a variety of Android devices.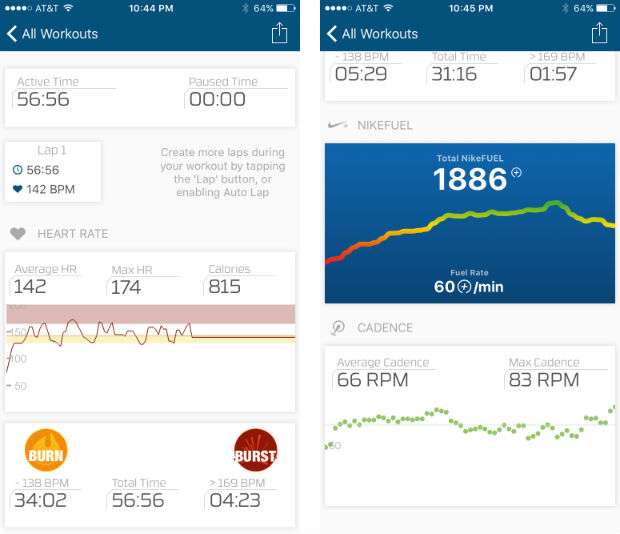 Powering up the device is as simple as putting it on - two nodes on the strap will detect your heart beat when they come in contact with your skin and red and blue flashing LEDs will tell you if it detects your heart beat (red) and whether it has paired with your iPhone or not (blue). You can double tap the TICKR X for various functionality (depending on what mode you are in) and it will vibrate to let you know it received the instruction.
The number one feature that puts the TICKR X a head above the competition is its onboard memory. You don't need to be paired to an iPhone while you are exercising, you can simply put it on and double tap it to let it know you've begun a workout. When you are finished you can pair with your device and synch all the data it has collected. It's a great feature if you don't like running with a phone in your pocket, or worse, swimming with one in your pocket. The only downside to using it this way is that it loses its ability to track motion, so if you are running, for example, you won't be able to monitor metrics like cadence, smoothness, ground contact, or vertical oscillation.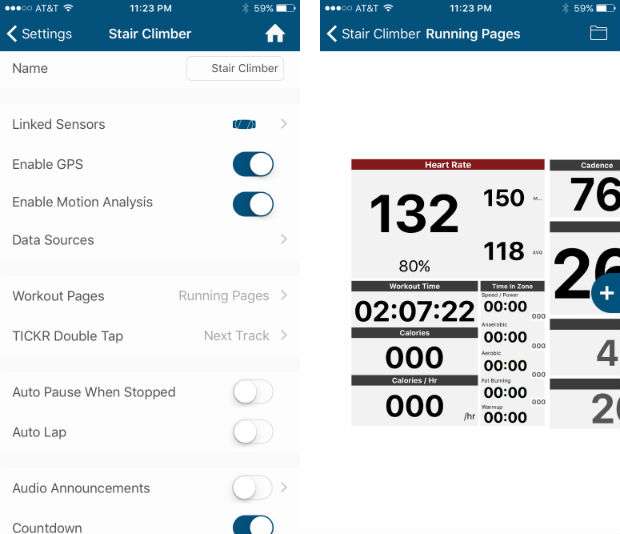 When you are paired with a device, you get to use all the bells and whistles in real time, using the many apps that are available for the TICKR X. The main app that you will start with is Wahoo Fitness, which is a virtual dashboard for your workouts. The main screen shows your past four weeks of activity, including how many workouts you had, how many calories you burned, total time and distance. You can get a detailed view by choosing "History" and looking at each workout individually and you can start a new workout with the "Workout" button. The real gem here is that it is very customizable. There are a number of default workout profiles like running, treadmill, cycling and indoor cycling, but you can add your own (from a sizable list) and customize what data is shown and how it is shown. For example, I created a stair climber workout and chose a detailed heart rate page as its display. You can add more than one display page and you can return to view these for each of your workouts via the "History" button from the home page. You can, of course, also watch these data displays live while you are working out. You can also customize the double tap functionality - mostly it is used to skip music tracks, start new laps or pause the workout.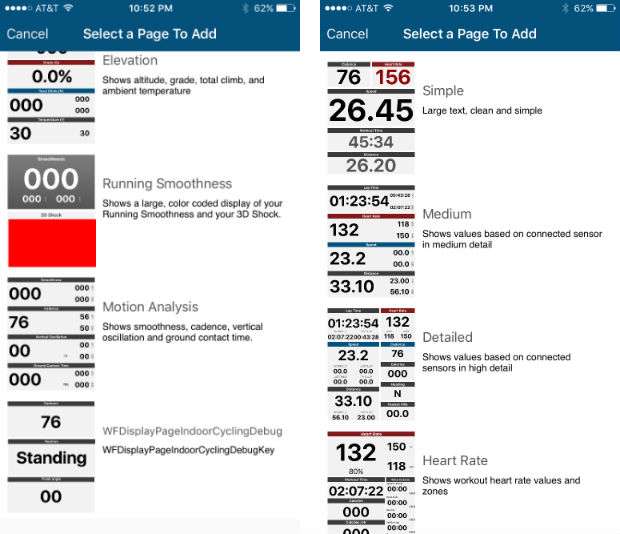 I have really only scratched the surface of all the Wahoo Fitness app has to offer, but I can say that the TICKR X itself is working out well. The heart rate monitor seems true - it progresses naturally and doesn't have sudden jumps like other monitors sometimes do. It fits well and isn't bothersome to wear. It also has yet to lose its connection with my iPhone, even though I sometimes walk a bit away from it at the gym. There are a lot of other apps I look forward to using it with, including 7 Minute Workout, which records reps of body-weight exercises, and RunFit, which helps you modify your workouts to achieve your goals. Aside from these there are over 50 third party apps that work with the TICKR X.
If you are just looking for a heart rate monitor, the TICKR X might be a bit much at $99.99, but if working out is part of your daily routine, the TICKR X can certainly help you improve upon it, and then becomes well worth the money. With New Years resolutions coming up, we think it would make a great gift for fitness-minded people.