Submitted by Thomas Estilow on
Billed as an advance preview, Apple's March 17th event to discuss the iPhone OS 3.0 software and SDK is generating quite a buzz. Most speculation revolving around the event has rehashed old, tired rumors about features that have failed to materialize on the iPhone, however there are some new developments.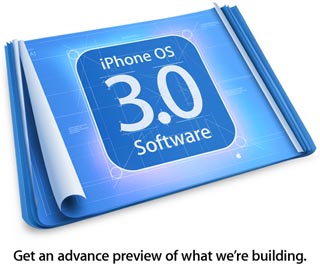 Two of the most interesting new firmware 3.0 predictions are reports of a revised SpringBoard and possible iPhone support for magnetometers. A update to the SpringBoard could include features to help organize multiple applications into folders or categories on the home screen. Magnetometer? Think digital compass, à la Android G1.
Other useful features in discussion include integrated MMS (multimedia messaging service) and the ability to tether the iPhone data connection to another device such as a notebook. The real question is how much more tethering will cost on your monthly AT&T bill.
Cut and paste on the iPhone? Maybe OS 3.0 will finally put this one to rest. Another old rumor centers around background push notification, which was supposed to release in September 2008. This would allow applications to receive data while not running, and remains highly sought after by developers.
This St. Patrick's Day event is not the first time developers have received a preview before a new SDK (software development kit) release. If Apple's March 2008 media event is any indication, next week's preview could mean the next generation iPhone hits shelves with firmware 3.0 this summer.
Steve Jobs is not expected to attend the event, which is an invite-only affair at 10am PST on the Apple campus in Cupertino, CA.