Beta testing is always a risky business, especially if you are installing the unproven software on your main device. The whole point of beta testing is to identify bugs and instabilities in software that has not yet been officially released. As such, there is always the possibility of installing the software and finding that your device constantly crashes in certain situations, or certain features no longer work. For instance, the 9.3 beta has elicited complaints about Bluetooth not working properly. If you decided to install the iOS 9.3 public beta to check out some of the new features like Night Shift, secure Notes, CarPlay enhancements or other features, but find you are having issues with it, you may want to downgrade back to iOS 9.2.1. Hopefully you archived a backup from iOS 9.2.1, because there could be issues if your only backup on iCloud was made while you had the 9.3 beta software.
Unfortunately you can't just tap a button to revert to iOS 9.2.1, you have to enter recovery mode and then do it through iTunes. Here are the steps to go back to iOS 9.2.1:
1. First off, make sure you have the latest version of iTunes installed on your computer. Then make sure you have Find My iPhone turned off on your iPhone (do this in Settings -> iCloud).
2.
Turn off your iPhone and plug your lightning cable into your computer (but not to your phone).
3. To get into Restore mode, press and hold the Home button on your iPhone, then plug in the lightning cable while still holding the Home button down. You will see a lightning cable with an arrow pointing up to an iTunes icon on your iPhone screen (like in the picture at the beginning of the article).
4. On your computer screen you will see an iTunes pop-up saying that there is a problem with your iPhone and that it needs to be updated and restore. Click on the Restore button.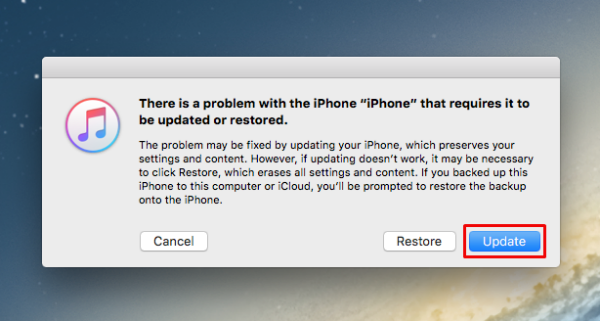 5. Another window pops up asking you if you really want to restore to factory settings. Click "Restore and Update."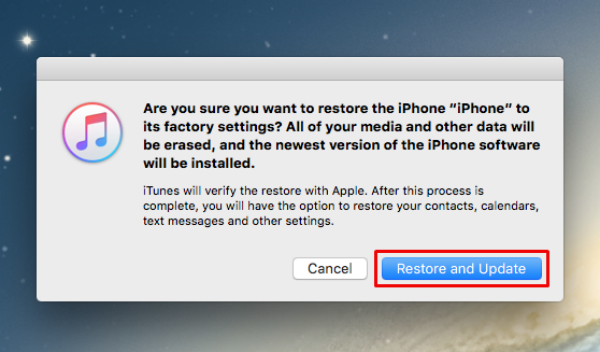 6. Click "Next" on the update notes, then agree with the Terms and Conditions. At this point your iPhone should start restoring automatically. If it doesn't, you might have to tell it to restore again in the iTunes interface. If it reboots and is still running 9.3, go through all the steps again.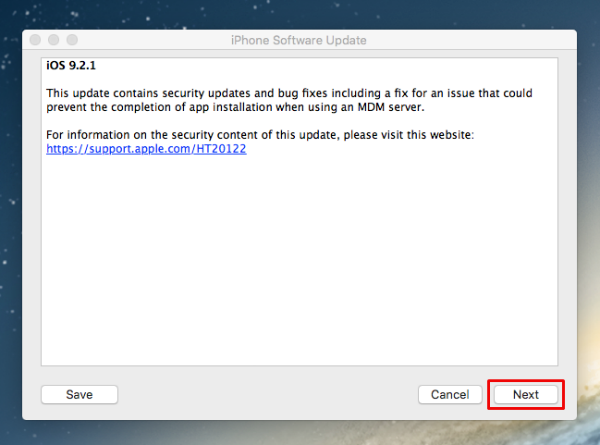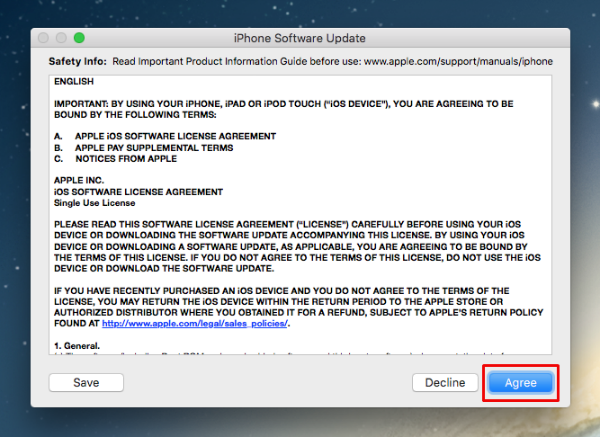 7. When your phone restores to iOS 9.2.1 you will have to go through the basic setup again, just like when you first got it. Once you are through this you can restore your archived backup to get all of your content back. To do this, simply click on "Restore Backup" in iTunes and choose the backup you wish to restore.