Apple's Night Shift is a new feature in iOS 9.3 (which hasn't officially been released yet, but is currently available in the public beta) that is similar to the very popular f.lux app that is only available for jailbroken iPhones. The new setting lets the user shift the iPhone's display toward the warmer end of the spectrum. The standard iPhone display (and most handheld device displays for that matter) emits a lot of short wavelength light, specifically blue light. Blue light is known to affect melatonin levels, thereby disrupting the body's circadian rhythms and sleep patterns. This means that reading an iPhone or iPad before going to sleep, as many do, can result in a poor night of sleep. The Night Shift feature allows the display to be shifted toward the red end of the spectrum where the longer wavelength light, in addition to being easier on the eyes, does not hamper melatonin production to the degree that blue light does.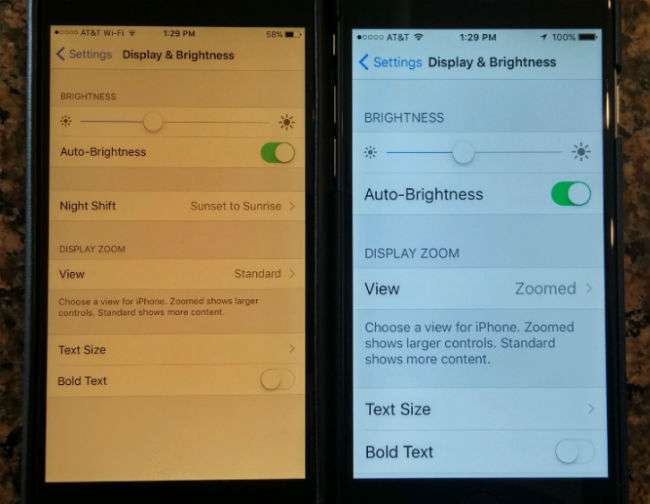 If you have used f.lux before, you probably can't imagine reading your iPhone in bed without it anymore. Now you can have the same functionality without having to jailbreak. For those who are new to the warmer display, Night Shift will likely become your standard setting. Here's how to use the Night Shift feature in iOS 9.3:
1. Once you have iOS 9.3 installed, head to Settings -> Display & Brightness -> Night Shift to get to the Night Shift settings pane.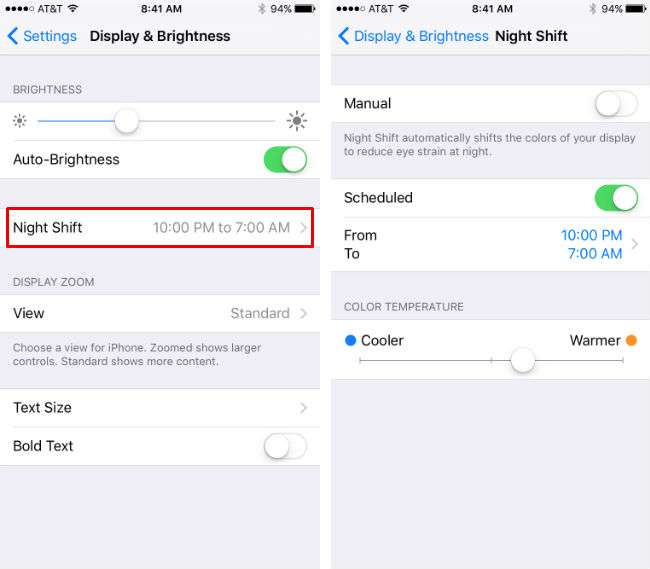 2.
Here you can set Night Shift to manual setting, or you can schedule it to turn on and off at specific times. You can also control the color temperature with a slider. This dictates the temperature of the display while Night Shift is on, and will give you a preview as you move the slider.
3. Tap on "Scheduled" to set times for Night Shift to activate. You can use Custom Schedule to set specific times or you can simply have it activate and deactivate at sunset and sunrise, which will be calculated by your location (you will have to have Settings -> Privacy -> Location Services and Location Services -> System Services -> Setting Time Zone both turned on for this to work).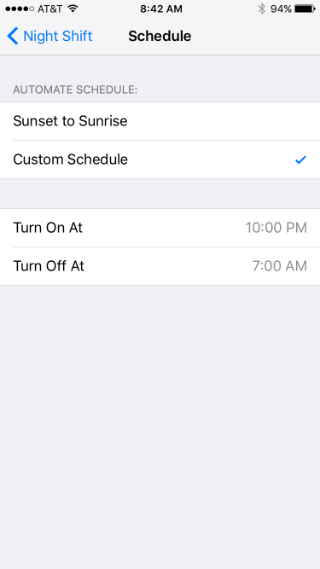 4. That's all there is to setting up Night Shift. You can turn it on and off manually at any time from the control center, where it has its own icon. You can turn it on indefinitely or until tomorrow.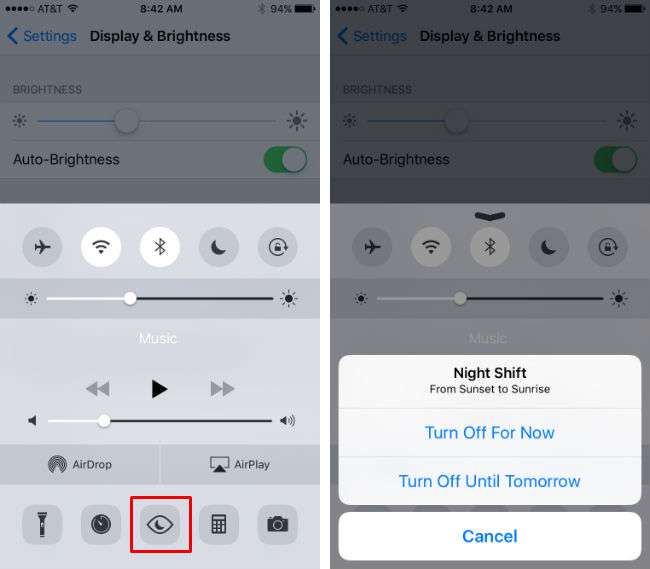 Night Shift is only available for devices with 64-bit processors, which includes the iPhone 5s, 6, 6 Plus, 6s, 6s Plus, iPad mini 2, 3, 4, iPad Air and Air 2, iPad Pro and iPod Touch 6G. There is no word as yet if it will be available for the Mac, but f.lux is available for OS X, Windows and Linux.