Amazon Prime, aside from the free shipping that prompts people to sign up for it, also gives its members free access to a lot of media, including movies and TV shows as well as music. With over a million songs from a wide variety of artists in its catalogue, Amazon Prime Music offers an ad-free, personalized listening experience with unlimited skips, pre-made and customizable playlists as well as genre radio stations. What's more, just like its video media, Amazon allows you to download music for offline listening, allowing you to create playlists for flights or road trips where you might not have an internet connection.
If you are a member of Amazon Prime you should take advantage of this feature, here's how:
1. Head to the App Store on your iPhone or iPad and download Amazon Music with Prime Music. You need to be running iOS 9 or later (Note: this may change with updates to the app).
2.
Open it up and sign in with your Amazon login. You'll have to agree to terms and conditions, then you will have the option to authorize your device to play Amazon Music. You are allowed to authorize up to 10 devices with your Prime account.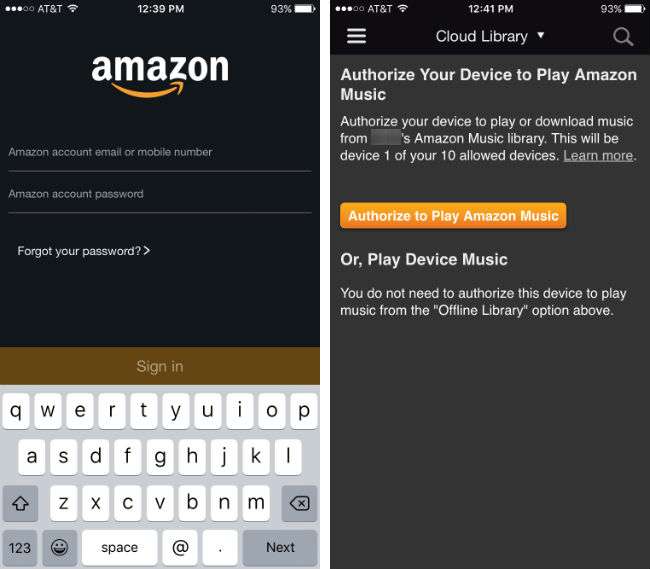 3. Once you are finished with your initial setup you can start adding music to your library. Tap the menu icon in the top left of the screen, then tap Prime Music.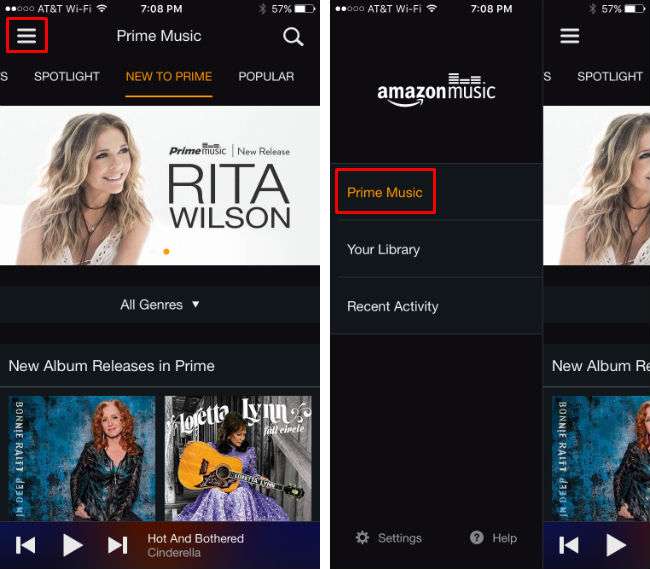 4. From here there are a number of ways to find music. If you have particular music in mind, the simplest way is to search for it using the magnifying glass icon in the top right. Search for an artist, song or album title. Albums and songs will appear with a "+" next to them which you can tap to add it to your Cloud Library. You can find several more options under the three dot icon, including Play Next, Add to Play Queue, Download, Add to Playlist, more songs and albums by the artist and suggestions based on other customers' likes.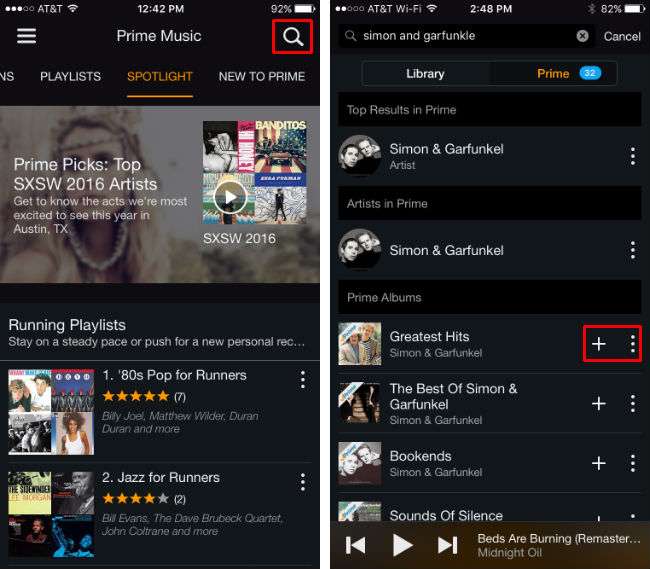 5. If you plan to listen offline, choose the download option (tap the three dots) to add a song or album to your offline library. You can access your libraries by tapping on the menu icon in the top left and selecting "Your Library." Now you can switch between your Cloud Library and your Offline Library by tapping on the title of the library you are currently in at the top center. You will only be able to play music from your Cloud Library while you are connected to the internet, but you can listen to your Offline Library any time. Keep in mind that anything you download to your offline library will use your iPhone's storage.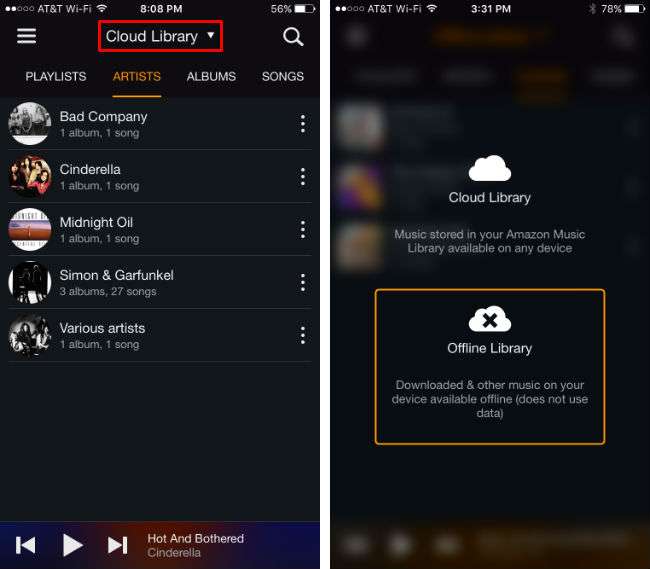 6. Playing music is simple - just search through either the Prime Music section or your library by artist, album, song, genre or playlist. Once you've found what you are looking for just tap it. Once it is playing you will see some album art if it's available and the standard music controls. Most songs offer "X-ray Lyrics," a nice feature that shows you the lyrics of the song just underneath the album art. You can set the music to loop or shuffle (if it's an album or playlist) with the icons at the bottom. You can also use AirPlay to send the music to your Apple TV or speakers. The final icon on the right will show you what songs are coming up and what has already played. If you are listening to a song that you haven't added to your library you will see thumbs up and down icons on either side of the album art. Be sure to use these, as the app will personalize suggestions for you based on your likes and dislikes (presumably it counts as a thumbs up if you have already added the song to your library).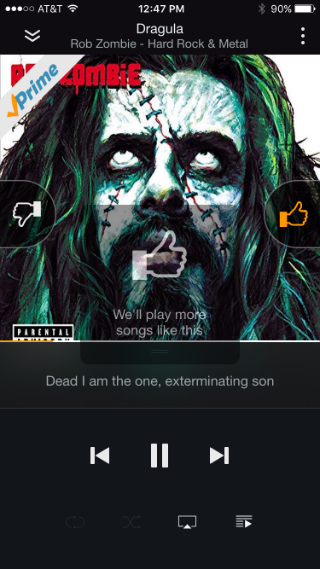 You can minimize this window with the down arrow icon in the top left, which will drop the play controls down to the bottom of the screen and allow you to continue browsing. The three dot menu icon in the top right will let you download the music if you haven't already, add it to a playlist or see more songs on the album and by the artist.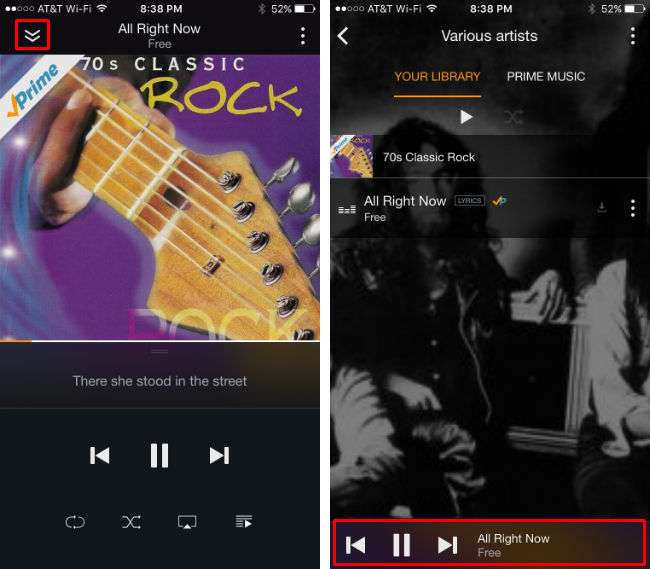 You don't have to add music to your library in order to listen to it. From the Prime Music area of the app (if you are in your library, tap the menu icon in the top left and select Prime) you can listen to stations or pre-made playlists. The Spotlight and Popular sections highlight all the current trends.
7. If you want to make your own playlist, head to your library (either cloud or offline) and tap the Playlists menu. Tap create new playlist and enter a name for it. Now you can add songs to it by tapping the options menu next to it and selecting add to playlist. If you are in the Prime Music section the song will be added to your library and to your playlist.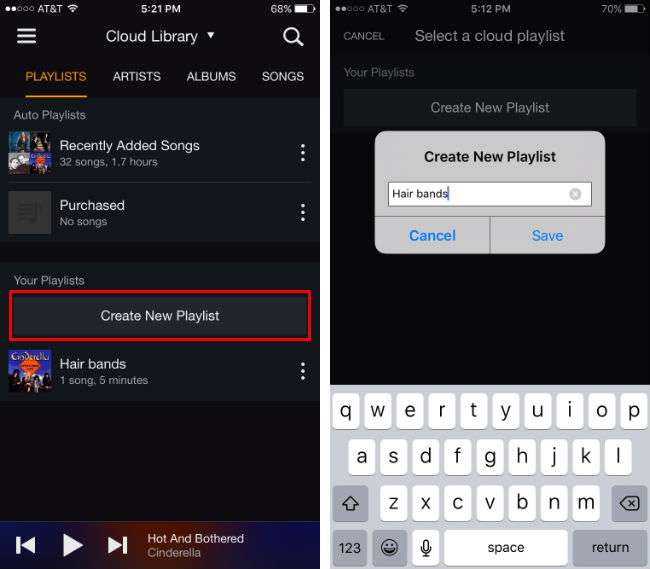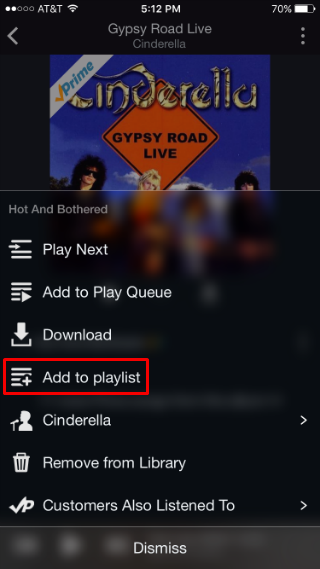 That covers the basics of Amazon Prime Music. You can access Settings from the main menu at the bottom where you will be able to change things like the music cache size, audio quality, notifications, and set a sleep timer.