Along with the addition of Siri and Apple Pay for Safari, macOS Sierra introduces the Universal Clipboard, which allows you to share your copy and paste clipboard between your devices. This is another Continuity feature like Handoff that allows you to seamlessly start a task on one device and continue it on another. Somehow the clipboard was left out of the initial launch, but now that has been remedied, allowing you to copy something on your Mac and paste it on your iPhone and vice versa.
There isn't much to set up for this feature, you just need the required hardware and software. You need to be running macOS Sierra on one of the following:
MacBook (Early 2015 or newer)
MacBook Pro (2012 or newer)
MacBook Air (2012 or newer)
Mac mini (2012 or newer)
iMac (2012 or newer)
Mac Pro (Late 2013)
You need to be running iOS 10 on one of the following devices:
iPhone 5 or newer
iPad Pro
iPad (4th generation)
iPad Air or newer
iPad mini 2 or newer
iPod touch (6th generation) or newer
To use Universal Clipboard you need to be signed into the same iCloud account on both devices. Additionally, both devices need to be connected to the same WiFi network and have Bluetooth turned on (you don't need to pair, just have it turned on).
If the above requirements are met, simply copy something on your Mac and paste it on your iPhone: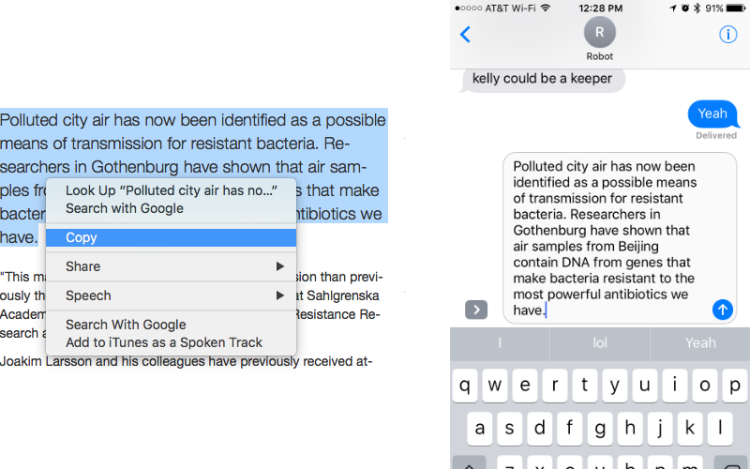 Or go the other way: