Submitted by Anders Batten on
A newly leaked schematic of the rumored iPhone 8 surfaced today on the Chinese microblogging site Weibo. The drawing features detailed Chinese annotations labeling the different components of the next-generation iPhone. 9to5Mac had the image translated to confirm what is being shown.
"From the top left corner going clockwise, the schematic labels point to an antenna gap, light and proximity sensor, duo front camera, a second antenna gap positioned symmetrically opposite, main motherboard (shaded yellow), power button, battery, Qi wireless charging coils, Taptic Engine, a third antenna gap, Lightning port, a fourth antenna gap, speaker, 'wireless charging module', SIM tray, volume buttons, mute switch, flash and rear dual-camera."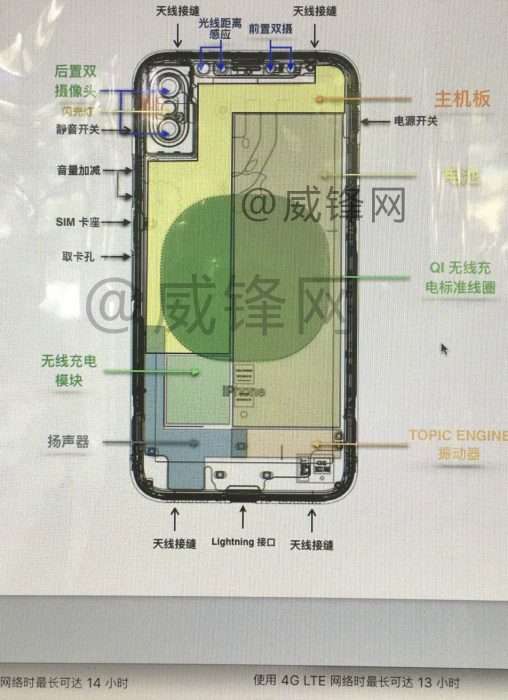 Missing from the image is rear Touch ID sensor which corroborates previous reports that Apple plans to integrate it into the display. 9to5Mac also points out how how much internal space is dedicated to wireless charging. The Qi wireless charging coil is represented by the green circle next to the main motherboard, and there is also the "separate square wireless charging module in the lower left corner," according to 9to5Mac.
Wireless charging will allow iPhone 8 owners to charge their device without a cable. Instead users will be able to charge their iPhone like the Apple Watch, by using an inductive pad. However, according to some reports, Apple will not bundle all iPhone 8 models with a wireless charger. iPhone 8 customers will have to pay more money to receive a charger inside their box.
The iPhone 8 is also expected to ship with a new curved OLED screen, 3D-sensing front-facing cameras and a Touch ID sensor embedded into the display. Various reports have suggested the next-generation iPhone will begin
shipping in October or early November
due to delays in the supply chain, however none of this has been officially confirmed.