If you have updated your iPhone or iPad to iOS 11, you may have noticed that the new Control Center toggles for Bluetooth and Wi-Fi don't fully turn off either service. If you turn them off you will disconnect from any devices that your iPhone is connected to, like AirPods, heart rate monitors, wireless speakers, or other accessories, but both services will remain on. This wasn't the case with iOS 10, where both could be fully disabled from the Control Center. Apple explains they decided to make the change in order to keep other useful features like AirDrop, AirPlay, Apple Pencil, Apple Watch, Handoff, Instant Hotspot and Location Services readily available.
There are times, however, when you truly do want Bluetooth and/or Wi-Fi to be completely off. For example, you might want to turn off Bluetooth while you are using AirPlay with your Apple TV because it can cause interference. To shut these services off you'll need to do it in Settings:
Bluetooth
To fully disable Bluetooth, open Settings and go to Bluetooth, then toggle it off.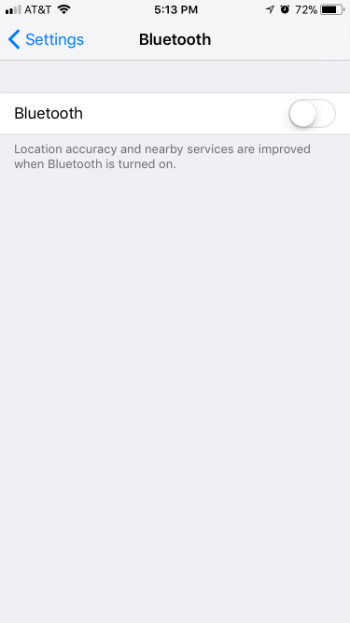 Wi-Fi
To fully disable Wi-Fi, open Settings and go to Wi-Fi, then toggle it off.
Remember to go back in and toggle them both back on when you no longer need them to be off because, as Apple likes to remind us, "for the best experience on your iOS device, try to keep Wi-Fi and Bluetooth turned on."