Every Autumn Apple introduces its new iPhone lineup to much fanfare about the upgraded hardware, which usually includes a faster processor and more storage, and sometimes an upgraded camera or display. Regardless of what new features are included, they always come with a price hike. This year's lineup, in addition to the iPhone 8 and iPhone 8 Plus, includes the 10th anniversary iPhone X, which features Apple's first OLED display and tops out at a whopping $1149. At the other end of the spectrum, the least expensive iPhone 8 will still set you back $699.
With prices like these, most customers prefer a payment plan as opposed to a one-time up front payment, and most of the big carriers will accomodate with a variety of options. Through AT&T, for example, you can purchase the 256 GB iPhone X for either $38.34/month for 30 months or $47.92/month for 24 months. You can also trade in old iPhones for varying amounts of credit. Verizon, Sprint, T-Mobile and others offer similar arrangements, but many don't realize that Apple, too, offers an upgrade plan.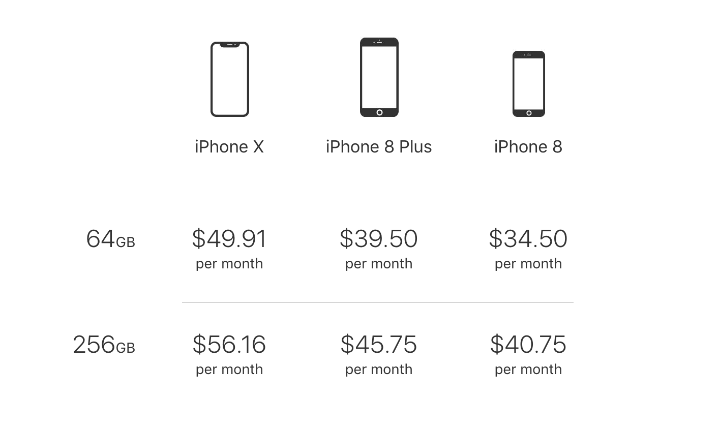 Apple's iPhone Upgrade Program is an avenue that should be explored by anybody who is looking to upgrade their iPhone. The program offers 24 month payment plans that include AppleCare+. iPhones these days are just too valuable not to insure in some fashion, and AppleCare+ takes care of this by extending the normal one year warranty to two years and including coverage for two incidents of accidental damage including drops, liquid damage and screen damage. With AppleCare+, screens can be replaced for $29 and other damage repaired for $99. The coverage also applies to iPhone accessories and includes 24-hour phone support. A 256 GB iPhone X would cost $56.16 per month. For comparison, with AT&T you would pay the $47.92/month plus $8.99/month for comparable insurance, bringing the total to virtually the same - $56.91/month. So with all else relatively equal, it is the yearly upgrade that really puts Apple's plan ahead of the rest.
With Apple's iPhone Upgrade Program you are eligible to upgrade as soon as you have made 12 payments, so you can always have the latest and greatest iPhone. Most of the carrier plans require you to pay off the remainder of your balance (at which point you own the phone and can sell it on ebay, etc.) or pay an upgrade fee, or both. Apple simply lets you trade in your iPhone for a newer one after a year of payments (your new payment may increase/decrease depending on the price of your new iPhone).
When you purchase through Apple your new iPhone will be unlocked and there will be no additional hoops to jump through with your carrier after activating it on their network. To join Apple's iPhone Upgrade Program, simply head to Apple's site or the Apple Store app, go through the purchase process, then select Apple iPhone Upgrade Program as your payment option. You will need to provide your Social Security number, date of birth and Apple ID, plus a credit card (debit and prepaid cards are not accepted). You will also need your current carrier account details. If you enroll at a brick-and-mortar Apple Store you will need two forms of identification (driver's license or other state ID plus a credit card with a matching name will suffice). And, as always, back up your current iPhone to iCloud or your computer before activating your new iPhone.