Submitted by Sammy Snyder on
Evoland 2 takes you on an RPG adventure through the history of video games. Players control a character named Kuro, who befriends a girl named Fina during a war against the Demons of Demonia. The duo must travel through time to determine the fate of the world.
The game takes place during different phases of video game history, beginning as a Game Boy-like RPG inspired by classic titles such as The Legend of Zelda. The story follows Kuro and Fina as they travel through time meeting different characters while trying to collect parts of an item to help them save the world. The game switches between time periods within the story that represent different graphical eras of video gaming, including Game Boy, 8-bit, 16-bit, and 3D.
Most of Evoland 2 is top-down real-time RPG, but sprinkled throughout the game are puzzles, and references to other gaming styles like Double Dragon and Dance Dance Revolution. The game features everything from a Metroidvania level to a shooter level with a collectible card side quest reminiscent of Hearthstone.
If you do not like RPG games like Final Fantasy or Dragon Warrior then Evoland 2 is probably not the game for you. The non-RPG levels are only fun, tongue-in-cheek references to older popular titles. You're not going to have any fun pushing through the classic RPG elements of the game to play a subpar shooter or platform level. The game features around 20 hours of gameplay which includes a lot of useless conversation with NPCs and a basic RPG story.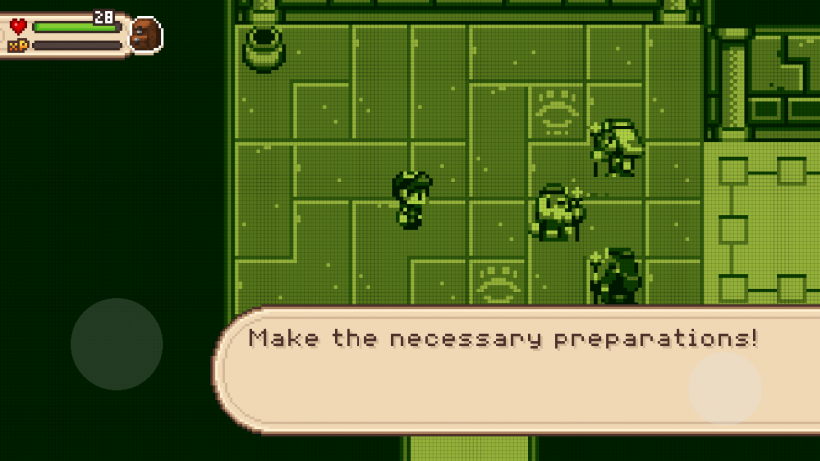 Evoland 2
is for fans of RPG games and video game history. None of the different levels will blow you away, but the references are fun. The mobile version also has a few bugs, and the onscreen touch controls can be a bit frustrating at time. The game does however support MFi controllers.
Evoland 2 is available now for $6.99 (10% off launch price) on the Apple App Store. It's supposed to support the iPhone X but there were some issues at launch with Plus-sized iPhone models. Version 1.0.4 includes a resolution fix for larger models.