Submitted by Bob Bhatnagar on
Novothink's Surge for iPhone and iPod Touch is the first solar charger to be certified by Apple. This device has its own internal battery and LED status indicators, in addition to a full-fledged solar panel on the back of the unit.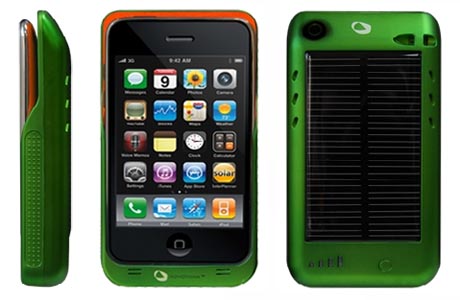 Surge allows full access to the iPhone when docked, with openings to the speakers, USB port, and camera lens. There's even a cord included to hang the iPhone from a backpack or your wrist while outside to facilitate charging.
Novothink will also release a free iPhone Solar Planner app that will calculate the hours of sunlight needed to keep the Surge and iPhone charged based on usage. The 1500mAh lithium-ion battery in the Surge actually has more capacity than the battery inside the iPhone.
Surge is compatible with the iPhone 3G and 3GS, and will hit shelves later this month at a retail price of $69.95. Several colors will be available, as well as an optional belt clip.
Highlights of features:
Powerup directly from the sun while carrying your iPhone. This sleek, smartly designed hybrid solar charger is convenient and easy to use.
- State-of-the-art solar panel allows continuous charging from the sun
- Custom designed and engineered solar panel outputs 5.5V at 100 mAh in full sun
- 2 hours of direct solar exposure provides about 30 minutes of talk time on a 3G network or 60 minutes of talk time on a 2G network
- Integrated rechargeable 1500 mAh 3.7 V lithium-ion polymer battery offers 120% capacity of iPhone
- Optimized power management system provides continuous charge to iPhone 3G's or 3G S's internal battery
- Durable, lightweight hard-shell construction with soft-touch grip side sections
- Clean, green energy source
Although the Surge looks a little on the thick side, at $70 the benefits may outweigh any extra bulk.