Submitted by Marshall Walker on
Whatever your addiction might be, Facebook, Fortnite or so on, Apple has your back. In an effort to help its users curb iPhone addiction, and to possibly get ahead of the World Health Organization, Apple has introduced a Screen Time tool in iOS 12.
Now located in the Settings app, under Sounds and Do Not Disturb, is Screen Time. The new feature allows you to monitor your device usage by breaking it down into categories such as Productivity, Creativity and Other. By tapping "All Devices" on the Screen Time page, you can see how much time you have spent on your device for that day or the last 7 days. From here you can also view your longest session, most used apps, how much you picked up your device, and notifications received.
From the main Screen Time page you can schedule downtime. This allows you to set a scheduled break from your device. During this time only apps you choose to allow and phone calls will be availble to you. To select which apps are allowed during your downtime, tap the "Always Allowed" tab in the Screen Time section, then select the apps you want to allow and not allow. You can remove Messages and FaceTime from the "allowed" section, but not the Phone app.
The Screen Time page also allows you to set up daily app limits. Unfortunately you can't set limits for individual apps, such as Fortnite, but you can limit them by categories like "Gaming." To limit your app time just tap the "App Limits" tab, then select the categories you want to limit. You can then select the amount of time you want to limit yourself, set an "Ask for More Time" option, or delete a set limit.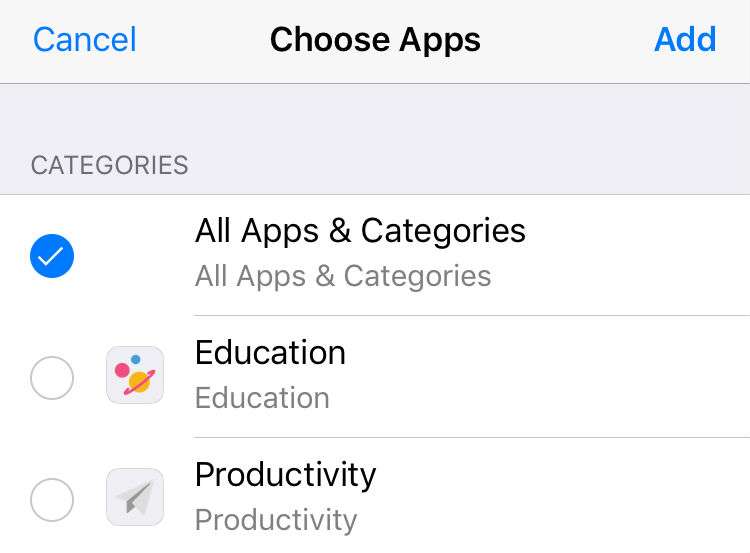 Screen Time is a great tool to help you cut back on your mobile device usage, but it is still voluntary. You can always cancel your downtime or app limits and even disable Screen Time altogether. Like with any addiction, quitting or cutting back starts with you.
Parents can use Screen Time and Family Sharing to limit their children's mobile usage. Just tap the "Set Up Screen Time for Family" from the designated "family organizer" device, then follow the prompts.