Submitted by Thomas Estilow on
Lithium-ion batteries are our friends. They have a great energy-to-weight ratio, no memory effect and they don't lose a charge quickly when not in use. About one percent of these batteries is recalled due to problems.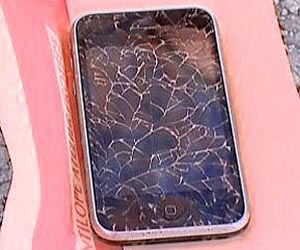 Unfortunately, these problems can include overheating, spontaneous combustion and explosions. A French teen has reported hearing a loud hissing noise before his iPhone screen shattered during a call. The photo above shows the screen, which he says launched a piece of glass into his eye.