Submitted by Marshall Walker on
iOS and Mac users are reporting that they're having trouble logging in to Apple services such as iTunes Connect and the App Store. This is causing problems for users who were in the process of downloading apps to their iPhone or iPad. iOS users with a "stuck" app that was interrupted while downloading can follow these instructions to re-install the app once the outage is over.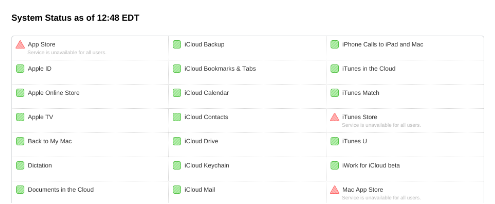 At the time of this post Apple's system status page shows that the App Store, iTunes Store and Mac Store are all down. The page reads, "customers may be unable to make purchases from the App Store, iTunes Store, iBooks Store, or Mac App Store." The cause of the outage is unknown at this time.
Twitter users are using the hash tags #appstoredown and #itunesdown to report the problem.
UPDATE: Apple has issued a statement to CNBC:
"We apologize to our customers experiencing problems with iTunes and other services this morning. The cause was an internal DNS error at Apple. We're working to make all of the services available to customers as soon as possible, and we thank everyone for their patience."