Submitted by Marshall Walker on
It is a good time to start considering what fantasy football cheat sheets, draft kits and tools you're going to download now that the NFL pre-season officially kicked off on Thursday. All the popular fantasy football apps have been updated for the 2015 season, and there are a few new offerings on the App Store too. Here's a quick look at some of the 2015 fantasy football apps available for the iPod touch, iPhone and iPad.
RotoWire Fantasy Football Guide 2015 ($4.99) (iPad only)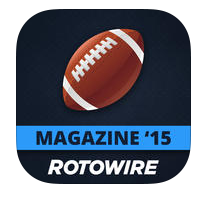 The RotoWire Fantasy Football Guide is like downloading one of those old school fantasy football magazines we all used to buy before apps were available. While it does offer cheatsheets, it is more of a study guide for owners who like to be prepared. The guide includes over 300 player profiles, previews of top rookies, sleepers picks, a college fantasy preview and more.
RotoWire Fantasy Football Draft Kit 2015
($4.99) (Universal)
The RotoWire Fantasy Football Draft Kit offers everything that you need to succeed at your 2015 draft, including the all important ability to keep track of what players have already been drafted.
Features include:
- A cheat sheet that ranks players based on projected stats for 2015 using your league's settings.
- The cheat sheet is a Value Based Drafting method that accounts for your league's categories, roster, etc.
- For drafts: The ability to manually rank players to your preference.
- Mock drafts against AI.
- RotoWire.com outlooks for the 2015 season for hundreds of players. You can't get that in ANY other app.
- Recent news and analysis for players.
- Projected Standings for your league.
- We offer the ability to tier players or mark them as sleepers or busts.
- Notes can be added on each player.
- Functionality that lets you easily keep track of who has been drafted.
- Team depth charts.
- Projected stats for the 2015 season.
- Player stats from the last three seasons.
- The ability to download updated news and stat projections until the start of the 2015 season.
- A player search that allows you to quickly find players.
- Individual defensive player rankings.
- Ability to use Team QB and Team K in your roster.
- Current fantasy football articles from RotoWire.com experts.
- The cheat sheet isn't ordered just by projected point totals, we calculate player rankings based on your league's settings.
NFL Fantasy Football Cheat Sheet & Draft Kit 2015 ($4.99)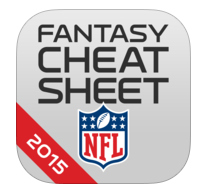 I personally download several apps to prepare for all my drafts, but at crunch time I always find myself using the NFL Fantasy Football Cheat Sheet & Draft Kit. It's easy to set up and allows you to keep track of multiple teams for a variety of drafts including serpentine / snake, straight, third round reversal and auction.
Features include:
- Pick Recommendation Engine: Using our custom Value Based Drafting (VBD) algorithm, players are ranked by value instead of just raw points. Calculated using your league scoring system, drafting will never be easier.
- Current and future weekly projections
- Mock Draft: Practice your draft strategies against the AI
- Record your own personal notes on players
- Create custom rankings. Rank players in any order you choose.
- Draft types include serpentine / snake, straight, third round reversal and auction
- Track all team rosters in your draft. Make better decisions by knowing what players your opponents may be targeting.
- Auction draft support! Keep track of your available funds and the funds of all other teams in your draft.
- Display your draft board for everyone to see using AirPlay and your big screen TV or projector (AppleTV required). No need to purchase a paper draft board!
- Extremely deep custom scoring rules options based on your league scoring system. Includes bonus points, TD length, FG length, return yards, defensive points against, yards against, and much more!
- Configure starter position limits for your league, including the ability to select flex positions such as WR/TE, RB/WR/TE, etc.
- Amazingly accurate stats projections updated several times per week.
- Player statistics for the past 3 seasons.
- Up to the minute player news & injury info. Works great offline as well! Active internet connection NOT required.
- Search by player name to quickly locate any player.
- Team offensive & defensive rankings. Easily identify players on high-powered offenses.
- Consistency rating for each player. Know which players you can trust to score consistently on a week to week basis.
- Complete team schedules including strength of schedule
- Track keepers for your league. Mark keepers before your draft so you know who's already taken.
- Complete NFL team depth charts, news and injury reports for each team.
- Individual Defensive Players (IDP) included
- Manually rank players by position or overall. Create the perfect rankings for your draft strategy.
- Sort players using your own rankings, VBD, ADP, AAV or projected points
FantasyPros Draft Wizard ($4.99) (Universal) FantasyPros Who Do I Draft? (Free) (Universal)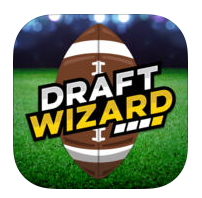 The Draft Wizard from FantasyPros is a draft kit that curates expert advice to give you the "most accurate and timely draft tools and advice". It features a manual draft assistant for marking drafted players, live sync draft assistant ($2.99 IAP) that can be automatically synced to your league and a mock draft option. The app currently supports Yahoo!, NFL.com, CBS, MyFantasyLeague, RTSports, NFFC, Fantrax, and FFPC leagues.
Who Do I Draft is a great bonus app that allows you to compare two players using FantasyPros' Expert Consensus Rankings (ECR) system. This is a great tool that you can utilize during your draft when you can't decide between two similar players.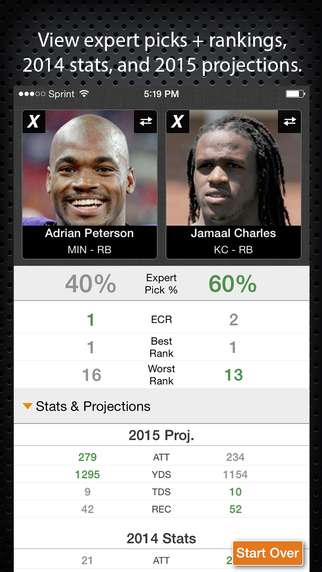 Footballguys Fantasy Football Draft Dominator 2015 ($4.99)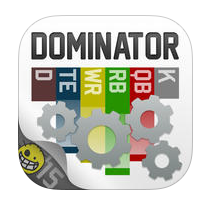 Formerly titled the Draft GM, the Footballguys Fantasy Football Draft Dominator allows you to create custom cheat sheets using its Dynamic Value-Based Drafting algorithms. It is also compatible with keepers and all flex-player leagues.
Features include:
- Full integration with Footballguys Rate My Team. Finish a mock (or draft) and get instant feedback to how well you did.
- Utilizes the cloud to save settings between your different devices and even share data with our Footballguys Magazine app.
- Comprehensive editable rankings allowing you the user to tweak players to where you think they should be drafted.
- Ability to edit weekly weights of the fantasy season so you can put the importance on opponent, playoffs, bye weeks etc
- Ability to quickly find complimentary players that have easy matchups when your studs have difficult ones.
- Comprehensive Depth Charts
- Ability to customize using 4 different offensive and 2 different IDP projection sets
- Scoring can be defined differently by position (ie TEs = 1.5 PPR, while RBs = 1 PPR)
- Supports split out of IDP positions from DL/LB/DB into DT/DE, OLB/ILB and CB/S
- Supports roster limits by position
- Player rankings and comments from over 20 staffers
- Weekly ADP Player History since early May
- Variable Team Artificial Intelligence (AI) allowing unlimited number of configurations
- True randomness in the AI calculations using a cmbination of VBD, ADP and randomness for selections
- Ability to customize VBD baselines
- Dynamic Auction Values that change as players are removed from the draft board
- Create Player Shortlists to compare stats side by side
- Published with articles to dominate your drafts, auctions for beginners and experts.
Draft Oracle ($1.99)
This app is a mock draft tool and draft day companion that warns you when you take multiple players in the same bye weeks and helps you keep track of handcuffs -- two very underrated features that every owner will benefit from.
League Apps Official league apps to update your roster on the go.
- NFL Fantasy Football - Official NFL.com Fantasy Football App (Free)
- ESPN Fantasy Football (Free)
- Yahoo! Fantasy Football & More (Free) App for all Yahoo! fantasy sports
- CBS Sports Fantasy Football, Baseball, Basketball & Hockey (Free)
- MyFantasyLeague Manager 2015 by RotoWire ($2.99)