Submitted by Bob Bhatnagar on
The latest numbers are in. ChangeWave Research has discovered that a whopping 34 percent of smartphone buyers would have purchased an iPhone if their carrier offered the Apple product. Instead, these consumers bought Samsung, HTC, RIM and Motorola devices to avoid switching their phone numbers to the AT&T network. Bad news for Motorola, whose users were almost evenly divided between keeping their smartphone or getting an iPhone instead.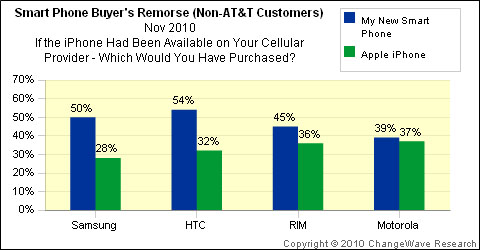 Samsung and HTC led the pack with 50 percent or more users stating they would stick with their devices. Only 28 percent of Samsung respondents claimed they would have purchased an iPhone instead, with 32 percent of HTC users echoing similar sentiments. Non-AT&T customers definitely have some pent-up demand for the iPhone and many would have made different purchasing decisions if their carriers offered the device.
Satisfaction was another focus of the survey, and Apple came out on top again. No less than 77 percent of iPhone owners are "very satisfied" with their phones. The next closest manufacturer is Motorola, with 71 percent of owners in the same category. Samsung and RIM trailed the pack with just under half of device owners saying they were "very satisfied."
The iPhone 4 even beat iPhone 3GS satisfaction numbers recorded in May 2010. The 32GB iPhone 4 garnered 84 percent satisfaction. 32GB iPhone 3GS owners clocked in at a slightly lower 81 percent "very satisfied." RIM's satisfaction problems also depend on the model choice. Three BlackBerry models illustrate the point: the Torch leads with 64 percent "very satisfied," Bold gets 48 percent satisfaction, and the Curve takes up the rear with only 40 percent in the same category.
ChangeWave points to the results as evidence that the iPhone still represents a significant threat to competitors in the smartphone market. Sales are sure to jump through the roof when the iPhone moves to additional US cellular carriers. This latest survey quizzed 1,212 people who purchased smartphones within the last six months.