Submitted by Fred Straker on
The stock Voice Memos app on the iPhone provides a convenient way to record audio on the go. While voice memos can be managed and played back directly on an iOS device, the files can be more useful when transferred to a computer. Not only does this save space on the iOS device, but audio files can be edited and used for different purposes after syncing.

The process of transferring voice memos to a computer only takes a few minutes on a Mac or PC with iTunes installed. To begin the process make sure the iPhone is connected to a computer via USB cable. Open iTunes and click on the name of the iOS device that contains the voice memos. This appears in the left iTunes menu under DEVICES.
To proceed, follow these steps:
1. Once you are browsing the iOS device in iTunes, navigate to the Music section (pictured above).
2. Make sure the box next to Sync Music is checked.
3. Check the box next to Include Voice Memos.
4. Click the Sync button at the bottom of the iTunes window.
5. All of the Voice Memos on the iOS device will be synced to the computer. iTunes will also sync other information from your iPhone such as Contacts and apps.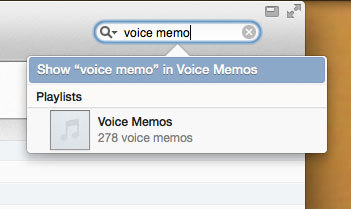 Once the voice memo recordings have been copied to the computer they can be played using iTunes. To find voice memos quickly, you can use the Search Library function. All synced voice memos are automatically added to a playlist named Voice Memos.
To open the Voice Memos playlist directly, navigate to PLAYLISTS -> Voice Memos in the left iTunes menu. Opening the playlist will display all of the audio recordings that were transferred using this method.
If you want to save space on the iOS device, don't forget to delete unneeded voice memos after transferring them to iTunes.