Submitted by Bob Bhatnagar on
Those of you waiting for an iPhone 4 unlock solution can now jailbreak your iPhones and get to unlocking with the latest version of ultrasn0w on Cydia. Owners of the iPhone 4, iPhone 3GS and iPhone 3G can all set up their devices with ultrasn0w version 1.0-1 to operate on carriers other than AT&T.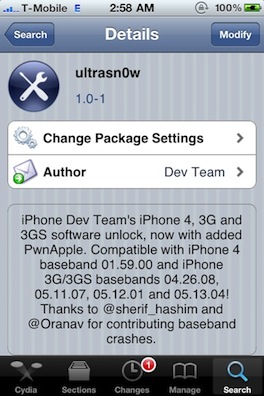 Apple sells unlocked iPhones in several countries, however in the US the iPhone is locked to AT&T thanks to an exclusive contract between Apple and the carrier. AT&T charges subscribers for international roaming, with the highest price attached to data plans overseas.
The latest version of ultrasn0w is available using the repository repo666.ultrasn0w.com, which should already be included in Cydia after jailbreaking. The unlock solution is compatible with:
iPhone 4 baseband: 01.59
iPhone 3GS and 3G basebands: 04.26.08, 05.11.07, 05.12.01 and 05.13.04
T-Mobile is the only iPhone compatible carrier in the US besides AT&T, although users will be restricted to EDGE as the 3G frequencies are not compatible. The US government recently
legalized jailbreaking
as a fair use activity, although Apple has taken the stance that doing so will violate your warranty.
Now that Comex has released the simple, in-browser JailbreakMe 2.0 the process is easy, convenient and reliable. Jailbreaking could still carry some risks, and unlocking will violate your AT&T terms of service. Dev-Team is sure to come up with more tricks as Apple is expected to patch the exploit used in the latest jailbreak soon.