Submitted by Bob Bhatnagar on
Now that the Verizon Wireless iPhone 4 has hit the streets, people have started taking it apart to see what makes the device tick. iFixyouri performed a teardown and reveals that the latest Apple handset is shipping with the Qualcomm Gobi MDM6600 dual-mode 3G modem. Currently the chip is only being used for Verizon's CDMA network, as GSM functionality requires a SIM card.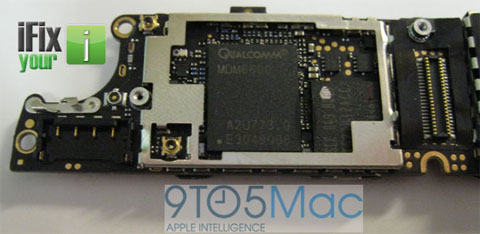 Rumors were flying ahead of the Verizon iPhone 4 release that Apple would launch a hybrid device capable of operating on a variety of networks. Now analysts expect the iPhone 5 and iPad 2 will also use the Qualcomm chip, designed to work on both AT&T and Verizon 3G networks as well as networks around the globe.
The chip is the same baseband found in the Verizon Droid Pro Worldphone, although GSM functions are locked out by Apple. Qualcomm is the first to release a single embedded device that connects to both EVDO and HSPA cellular networks. To connect to a specific network, the Qualcomm Gobi accepts uploads of different firmware images designed to connect to either CDMA or GSM networks. The chip was mistakenly rumored to be included in AT&T iPhone 4 designs.
In addition to the hybrid chip discovery, iFixyouri also made a preliminary list of differences between the AT&T and Verizon iPhone 4 models. While the screen and battery are identical, the following components are noticeably different:
- Front facing camera cover
- Headphone jack
- Speaker housing
- Vibrator
- Frame for the glass
- Dock connector flex
- Cable protector
- Logic board connector locations
- Cable placement
- Number of screws on logic board
Apple continues to improve on its designs and the iPhone 4 is no different. With the expected release of the iPhone 5 this summer, it's safe to say that the company will continue to use Qualcomm hybrid chips. Manufacturing just one model of iPhone 5 for both CDMA and GSM 3G networks makes sense until the widespread rollout of LTE 4G is complete.