Submitted by Bob Bhatnagar on
If you've waited this long to buy an iPhone 4 or iPhone 3GS, it looks like patience will pay off at the end of this month. The leaked screenshot below shows internal documents indicating that third-party iPhone retailer Radio Shack is getting ready to slash prices on the iPhone starting today (July 31, 2011). To qualify for the new subsidized pricing customers must sign up for a two-year contract.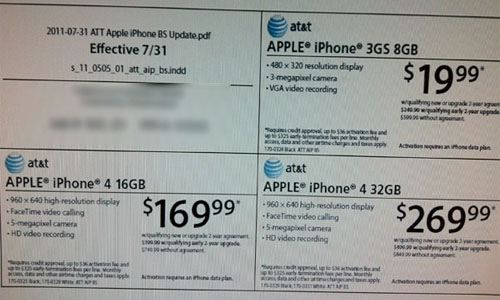 Both iPhone 4 models will drop $30 off the selling price, assuming the document sent to Engadget is authentic. This brings the price of the 16 GB iPhone 4 to $169.99 and the 32 GB model to $269.99. The 8 GB iPhone 3GS will also be reduced and is offered here for $19.99. We have already seen AT&T sell refurbished iPhone 3GS units for as low as one cent with a two-year contract.
PhoneArena reports that Target will also be getting into the act, offering a $100 iPhone 3GS trade-in credit towards an iPhone 4. Not only this, but the retailer is rumored to start offering the iPhone 4 for $50 off, making the 16 GB model $149.99 and the 32 GB Verizon model $249.99. According to the report, the 32 GB AT&T model will remain $299.99.
Regardless of whether or not the price reductions at Radio Shack and Target come to fruition, the fact is that change is afoot, and Apple will soon be releasing the iPhone 5. Should the new model be released this fall as expected, the previous models are sure to get the price cut treatment as retailers move inventory and make room for the next generation. It's not yet clear whether or not Apple will abolish the iPhone 3GS, although the company did promise to give existing 3GS users an operating system update to iOS 5.
Some have speculated that Apple will offer different tiers of iPhone at different prices, such as an iPhone 4S alongside an iPhone 5. It's also possible that Apple will retain the iPhone 3GS and iPhone 4 even if the latest and greatest iPhone 5 hits shelves in September. Combined with reports that manufacturing partners are ramping down iPhone 4 production, this leaked screenshot of iPhone 4 price reductions is further evidence that a new model is on its way sooner rather than later.