Submitted by Bob Bhatnagar on
There's a reason you've never heard of the iPhone 5GS. The only place it exists is within a malicious email being sent to PC users around the globe. This message purports to announce the next Apple iPhone but is merely a vehicle to spread the Mal/Zapchas-A trojan. Luckily for Mac owners the scam message only targets Windows users at this time.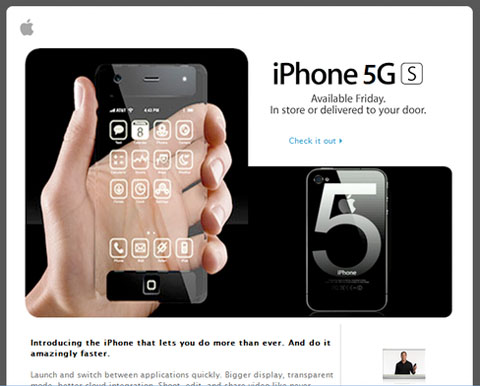 Security group Sophos has identified the infected email and makes the point that whenever there's a buzz surrounding an Apple media event, someone crafts a nefarious email to circulate to the masses. This particular message looks pretty fake as seen in the photo above. Not only does it show two different phone models, but the text and grammar aren't quite right.
Apple has planned a media event for later today that will detail its plans for the next iPhone. A legitimate email was sent from Apple showing four iPhone app icons and simply stating "Let's talk iPhone." Apple CEO Tim Cook is expected to make the announcement of a highly-anticipated iPhone 4S or iPhone 5 to be released within weeks. Nothing in the supply chain leaks or other rumors points to a next generation iPhone that looks anything like the crazy mock up above.
If you receive the iPhone 5GS email delete it immediately. Whatever you do, don't click the Order Now button or you'll be on the fast track to a PC infection without anti-virus software installed. If you do contract this particular malware, it's easily identified and cleaned with a virus scan.