Submitted by Frank Macey on
More evidence has surfaced pointing to an increased display size on the next generation Apple iPhone. After the recent appearance of iPhone 5 chassis parts revealing a taller profile and metal back, the leaked plans below appear to verify the new design.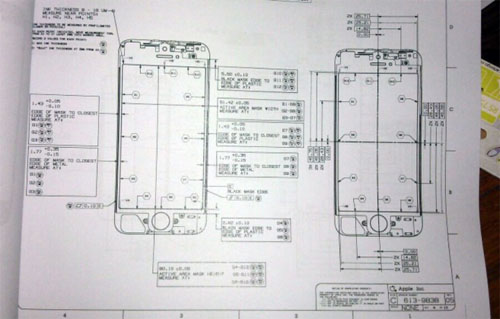 9to5Mac observes that the FaceTime camera has been moved to a location above the earpiece. The opening for the display is just slightly larger than four inches diagonally, making the area correctly sized for a 4-inch diagonal display with a 16:9 aspect ratio.
Apple has made other changes in the next generation iPhone design, including redesigned speakers and a smaller dock connector port. In addition, the headphone jack has been moved to the bottom of the device. According to the part photos, the iPhone 5 also appears to be thinner and taller than the iPhone 4S. The back is no longer all glass, but a combination of metal and glass, in both black and white.
Of course, these parts and plans could be for a prototype that Apple has no intention of releasing. Previous rumors hinted that Apple was going to eliminate the home button, however according to current reports there's no evidence this is the case. More plans and photos are bound to leak ahead of the next iPhone announcement from Apple. The company is expected to release the device in October.