Submitted by Frank Macey on
Photos of a scale model of the next generation iPhone have leaked to Gotta Be Mobile from a source within Apple's supply chain. Assuming these images are authentic, the engineering sample confirms several parts leaks and previous reports of a larger form factor.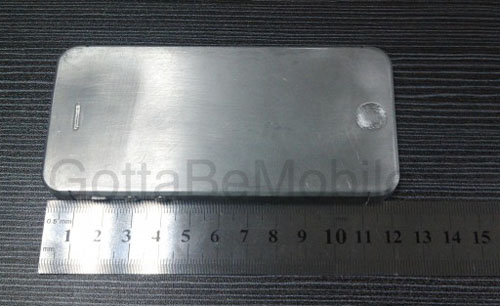 According to the engineering sample, which is typically used to mock up a product when fine tuning manufacturing processes, the iPhone 5 will be longer than its predecessor to accommodate a larger 16:9 display. Other aspects of the new design are also apparent in the metal model, such as camera placement similar to the iPhone 4S.
Although there is no definite indication of different materials on the back of the upcoming device, the model does show lines on the back. These match previous parts leaks that show an iPhone 5 with a hybrid metal and glass back, with metal in the center and glass along the top and bottom. The photos at Gotta Be Mobile did not indicate thickness, although the device is widely expected to shave a millimeter or more off of the iPhone 4S thickness.
Also not shown is Apple's implementation of a smaller, 19-pin dock connector as seen in parts leaks, which would make current 30-pin iPhone accessories obsolete. Other refreshes to the design include new speaker grills and a smaller front bezel. The taller iPhone screen will accommodate not only HD video in its normal aspect ratio, but will also provide an extra row of icons on the home screen. Existing apps can easily run on the iPhone 5 under iOS 6 without modifications with a "letterbox" black border on either side.
Engineering samples have leaked in the past, although some may have been for Apple prototypes that never see the light of day. Case manufacturers have a particular interest in the next generation iPhone form factor so they can bring their products to market faster. The iPhone 5 is expected to launch in October along with iOS 6 and the iPad mini.
Engineering samples of the iPad mini
have also leaked and will fill the gap between the iPhone and current iPad form factors.