Submitted by Marshall Walker on
Nuance Communications' technology is what powers Apple's mobile voice assistant Siri. The company's voice recognition engine can also be found in dictation software like Dragon Dictation and even in devices like Smart TVs. Nina is the company's response to the growing popularity of intelligent personal assistants that are popping up on all Android and iOS devices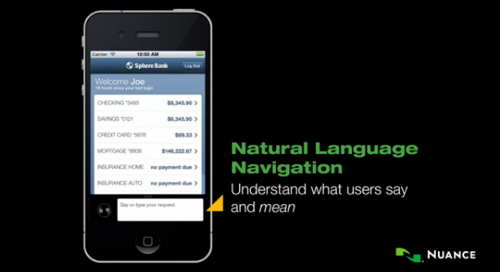 Nuance Communications describes Nina as "the first virtual assistant customer service app to incorporate both speech recognition and voice biometrics into a single integrated solution." Nina uses a combination of Nuance technologies like speech recognition and voice biometrics to understand what a speaker is saying and to identify who is speaking. This allows Nina the potential to perform such tasks as paying bills, or the ability to use other personal services without the need to enter a password.
Nina can be added to iOS and Android mobile applications via an open software development kit. This allows users the ability to personalize the virtual assistant.
"Nina is a watershed innovation for the automated customer service industry, not only because it brings the virtual assistant directly into an app, but because it raises the bar through its level of interactive dialog and language understanding," said Robert Weideman, executive vice president and general manager of the Nuance Enterprise Division. "Nina provides our customers a major competitive differentiator by enabling more successful self-service through their mobile app to deliver a premier mobile customer service experience to its users."
The Nina Virtual Assistant SDK service is available now from Nuance in the US.
The Nina Virtual Assistant for customer service is comprised of:
Nina Virtual Assistant Persona: Nina is a pre-made virtual assistant persona, which developers can leverage for their app, or use the available source code to quickly create a custom persona, including changing visual persona elements such as being awake, asleep, listening, processing, or answering a request. Nina also includes a range of existing Nuance text-to-speech voices, and Nuance can develop a custom TTS voice for an optional development fee.

Nina Virtual Assistant SDK: To enable the rapid integration of virtual assistant capabilities into mobile apps for Apple iOS and Android, the Nina Virtual Assistant SDK has three components:

- Nina Core APIs – Binary APIs that provide access to the core cloud services, such as speech recognition, text to speech and NLU. This provides the most control and customization possible to the mobile app developer.

- Nina Virtual Assistant APIs – Source APIs that provide mobile app developers with access to customize the persona, as well as providing control of all modes of input, including speech recognition, text to speech and touch dialogs.

- Nina Reference Designs – Source code of Nina Virtual Assistant apps and functions, including the Nina Banking Assistant, deliver pre-designed templates and tasks for store location, bill pay, account information and change of address. Developers will be able to leverage the reference designs to rapidly develop their own virtual assistant capabilities for travel, insurance, retail, government and more.

- Nina Virtual Assistant Cloud: A Nuance hosted service that provides the power and intelligence to Nina, including Nuance's industry-leading speech recognition, TTS, NLU, interactive dialog management and voice biometrics services.