Submitted by Bob Bhatnagar on
Scratched up the aluminum back on your iPhone 5? Now you can get a replacement back plate in white or black for $99. The same folks over at iPhone5mod that have brought the illuminated iPhone 5 Lightning cable to market are offering the rear case replacement parts.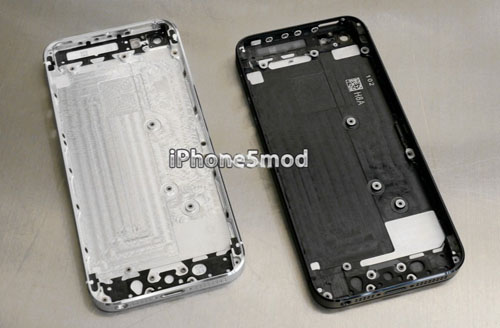 The rear panels pictured on the product page look identical to production iPhone 5 parts except they are missing country-specific certification information normally found printed below the iPhone name. iPhone5mod is using original Lightning connector chips in its 8-pin cable, and claims the back iPhone 5 cover is also 100 percent original.
While this might be great for the DIY community and local iPhone repair shops, Apple could pull the plug on iPhone5mod with legal action as these parts sales are clearly unauthorized. If you're looking to purchase the first non-Apple Lightning connector or stock up on pristine iPhone 5 aluminum backs, you might want to act quickly before these items are no longer available.
One of the top five iPhone 5 complaints after launch day was dubbed scuffgate after some units arrived with scratches right out of the packaging. Apple has since replaced many of the damaged iPhone 5 devices under warranty claims, and improved quality control procedures at manufacturing plants. Anodized aluminum can chip or scratch, leaving the bare silver metal color underneath exposed.