Submitted by Anders Batten on
Halfbrick Studios, the developers behind Fruit Ninja and Jetpack Joyride, have released a new game titled Fish Out of Water! for iOS devices. Not to be confused with JMT Apps' tower defense game with the same name, Fish Out of Water! is being billed as "an adventure across the sun, sand and surf." The object of the game is to get your fish to stay above water as long as possible by throwing him into the sky. Players get three throws to impress the Crab Crew, who will score their overall performance.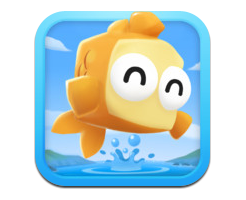 Users can compete in daily league score competitions, and unlock various charms that can be used to gain super fish powers. Players also have to deal with the elements which change daily and include tsunamis, icebergs and immense jellyfish swarms. Fish Out of Water! is now available through the App Store for $0.99.
The game is compatible with the iPhone, iPad and iPod touch. It requires iOS 5.0 or later, and is optimized for iPhone 5.