Submitted by Bob Bhatnagar on
Sometimes an iOS jailbreak tweak changes the rules of the game. Velox is one such tweak, bringing a whole new level of functionality to the iPhone in a streamlined package that might as well have been designed by Apple. We've seen these types of tweaks before, such as Auxo or Infinifolders, however Velox can fundamentally change how you interact with iOS on a daily basis.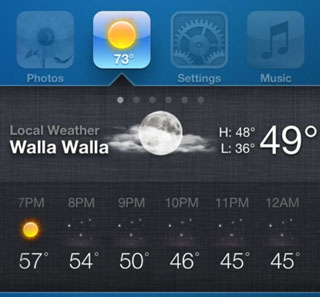 Here's how it works: simply swipe down over an app icon on the home screen and a folder-like section will open. Inside this area will be recent information from the app, or menus to perform specific functions. For example, swiping down on the stock weather app icon will reveal weather info right on the home screen without ever having to open the app.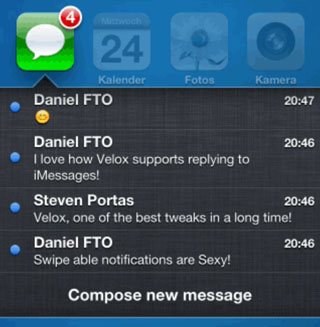 Recent messages can be revealed by swiping down on the Messages app icon, with the option to compose a new message right from Velox. Pulling down will clear all messages, or they can be individually swiped to dismiss. By tapping a message notification you can reply directly from the Springboard, without ever opening the Messages app.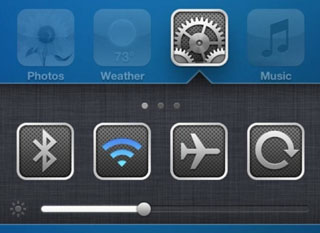 Other stock apps have special features such as Settings. Swipe down on the Settings icon and you will be presented with a variety of toggles including Bluetooth, Wi-Fi, Airplane Mode, Rotation Lock, Respring, Cellular Data, Mute, Location Services, Do Not Disturb and Flashlight. Again, any of these toggles can be switched without actually navigating down into the Settings menu structure.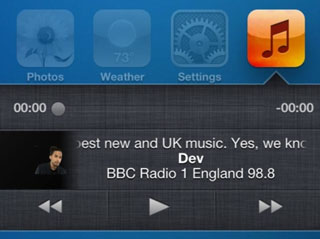 Music provides options to skip tracks, pause and scrub directly from the Springboard home screen. Tapping album art opens the Music app, which works with any music app including TuneIn, Spotify and others. Overall, once you get used to a tweak like Velox, it becomes more difficult to go back to using stock iOS on an unmodified iPhone. It's just that useful.
The list of features provided by Velox is impressive, and the jailbreak tweak is fully compatible with many other tweaks, including Auxo, Zephyr, Abstergo, Infinifolders, BiteSMS, and Springtomize 2. Settings control whether or not Velox provides an enhanced folder view or just recent notifications for individual apps installed on your device. Not only this, but extensive documentation is also provided with the tweak.
Velox is available on Cydia from the BigBoss repo for $1.99. Check here for instructions on how to jailbreak iOS 6.x with evasi0n. You can also find out how to purchase and install Cydia tweaks with this guide.