Submitted by Bob Bhatnagar on
When it comes to different themes on the iPhone the sky is the limit. All you need is a jailbroken device and a willingness to install WinterBoard. Although some say the tweak saps their battery life, there are a variety of high-quality themes available, all of which can be removed if they cause a problem. LS Squares is an interesting theme that modifies the iOS lock screen with a look similar to Windows Metro tiles.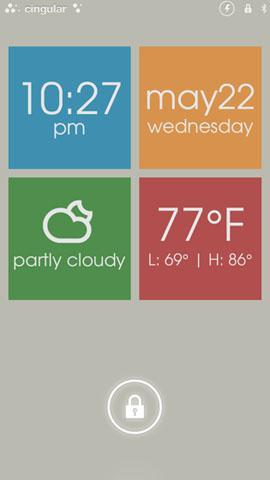 The theme works particularly well with some other tweaks to help refine the appearance. First of all, LS Squares requires some more advanced setup to select which city's weather is displayed, the language and default units for temperature. When downloaded from Cydia, LS Squares is set to display weather information from Los Angeles. Changing this requires editing a text file on your iPhone.
This process is quite simple if you have iFile installed. Open the app and navigate to the following file on your device:
/var/stash/Themes/LS Squares.theme/Setup.js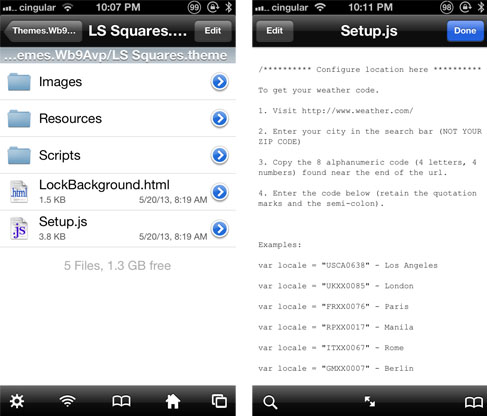 Edit the file to enter the values desired. Comments in the file from the developer explain exactly how to find and where to enter the correct values. Respring and the tiles are customized to your liking.
There are other tweaks you can use to customize the look of LS Squares. Pictured in this article is a lock button modeled after Android, which can be enabled by installing the tweak JellyLock. To remove the time from the lock screen, so as not to interfere with LS Squares, install the tweak Lockscreen Clock Hide. Finally, to hide the time on the status bar there multiple options in Cydia. If you have Springtomize 2 installed, this can hide the status bar clock under Settings -> Springtomize -> Status Bar -> Hide Status Bar Items -> Time -> ON.
Theming the iPhone can provide a refreshing look, and as in the case of LS Squares, some themes will deliver information as well. LS Squares is available free on Cydia from the ModMyi repository. Check here for instructions on how to jailbreak iOS 6.x with evasi0n. You can also find out how to purchase and install Cydia tweaks with this guide.