Submitted by Anders Batten on
PopCap has finally announced the release date for the long awaited Plants vs. Zombies sequel. The game entitled Plants vs. Zombies 2: It's About Time will be an iOS exclusive, and will hit the App Store on Thursday, July 18. PopCap, now a division of Electronic Arts Inc., previously released a teaser trailer in May, but did not give a specific release date. The developer also promised a newly designed game with new worlds, levels, plants, and zombies, but failed to mention that the game would not be available for PCs or Android devices.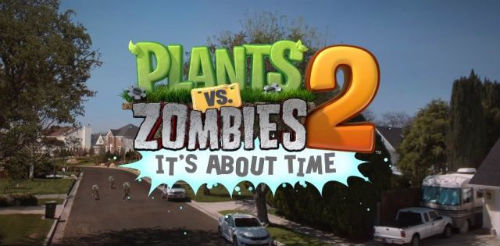 PopCap also announced that the game will feature "all-new touch-screen power-ups that enable players to 'break the fourth wall' and interact with zombies directly, as well as via plant defenses".
"It's about time!" said Allen Murray, Senior Producer for Plants vs. Zombies 2. "We're confident that players will see the love and attention we've put into this game. We've created wild new ways to experience the plants and zombies you know and love as well as packing the game with tons of completely new content, and we're still hard at work coming up with even more cool stuff that will keep Plants vs. Zombies 2 fresh and evolving in the months and years following launch."
Unfortunately for some gamers, EA has decided to go with the free download in-app purchase model, instead of charging a one-time download fee for the game. Some fans of the game are worried that the gameplay will suffer, due to a heavy in-app purchase requirement like EA's Real Racing 3 release. However, PopCap did state that "the vast majority of the game will be entirely free to play," in the official press release.
This news, plus the game being an iOS exclusive is not sitting well with a lot of fans, who have already started voicing their complaints via
YouTube
.