Submitted by Anders Batten on
An anonymous tipster (via 9to5Mac) has discovered the ability to control your iPhone or iPad with left or right head movements. The new feature was discovered in the Accessibility section of iOS 7. Users can now turn on a control switch that allows them to navigate their device by tilting their head left or right. The feature can also be used to act as a home button, start Siri, or open Notification Center. The new Control Switch could help people with disabilities navigate iOS devices more easily. You can see a video demonstration here.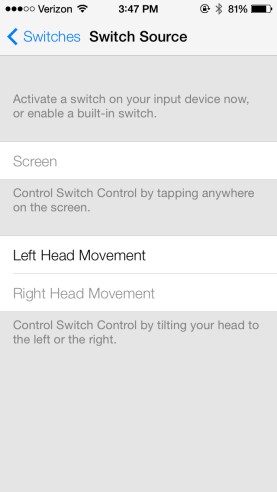 The Samsung Galaxy S4 has a similar feature called Smart Scroll and Smart Pause. Smart Scroll allows users to scroll up or down on a webpage or email by either tilting their head or the device. Smart Pause stops video when a person looks away from their display, and restarts it when they look back.
A lot of new features like the ability to redeem App Store gift cards with your camera, and MFi gamepad support have been discovered in iOS 7. The initial iOS 7 beta was rolled out to developers a few weeks ago, and a second beta was released earlier this week. iOS 7 is expected to be released to the general public alongside the next-generation iPhone sometime this fall.