Submitted by Frank Macey on
After the recent demise of Infinity Blade Dungeons, fans of the franchise on iOS are looking for good news. A senior QA tester at Chair Entertainment may have filled the void, adding to speculation that Infinity Blade 3 is currently in development. Michael Lochrane listed the project on his LinkedIn profile as seen below.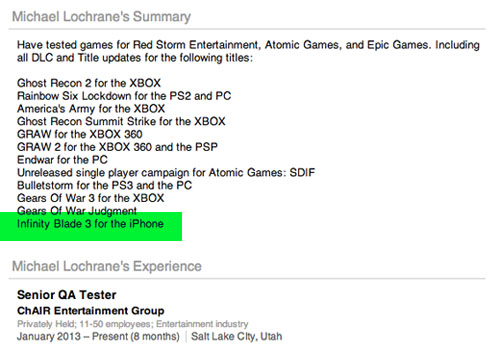 There has been no official announcement regarding Infinity Blade III, however Chair co-founder Donald Mustard stated the company's intention to continue expanding the Infinity Blade universe with future games, books and other products. Assuming Lochrane's post is legit, the next sequel could be headed to iOS this fall, with the release of the iPhone 5S and iOS 7.
Infinity Blade was first released in 2010, with its sequel Infinity Blade II following a year later. Besides utilizing the Unreal Engine 3 and wowing iOS users with stunning graphics, the franchise has netted developer Chair over $30 million. The games are designed to take advantage of Apple's mobile device touch screens, featuring sword fights, monsters and detailed scenery.
From Kotaku:
In a fairly unsurprising development, a CV of a staffer at Infinity Blade dev Chair Entertainment mentions work on a yet-to-be-announced "Infinity Blade 3 for the iPhone."
...going to guess Chair will use the inevitable fall Apple mobile reveal press conference as the venue to reveal Infinity Blade III, as they have done with previous titles in the franchise.