Submitted by Frank Macey on
Not only has Infinity Blade III received a significant update with more quests, enemies and modes, but the title is on sale for a limited time only. This could be the best time to pick up the latest game in the Infinity Blade series, or to send the game as a gift for the holidays. Pricing in the App Store is currently set at $2.99, marking more than half off the normal cost of $6.99.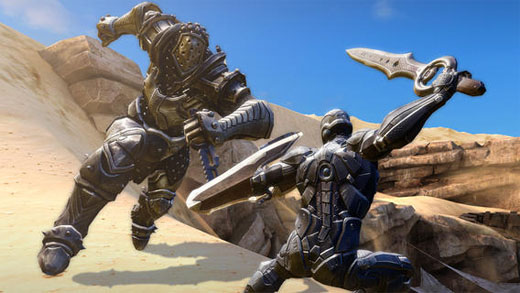 The Ausar Rising update comes free to existing owners of Infinity Blade 3. In-game chat makes it easy to share tips and secrets. Three new quests are included in the massive update, along with nine new enemies to battle. The expansion to Infinity Blade 3 doesn't stop there. Two new gameplay modes have also been added.
Details about the new modes from iTunes:
- New Mode: THE ARENA – How long can you survive in the Arena? Do you claim your prize now, or risk it for ever increasing rewards?
- New Hardcore Mode: DEATHLESS QUESTS – The ultimate way for the ultimate Infinity Blade gamer to play the game!
Ausar Rising gets even better with over 60 new items. The assortment of shields, helmets, weapons, armor and magic rings has never been larger. Eight new skills have been added for players to unlock, and new goals, potions and gems are added to the mix.
For $2.99 now could be the best time to grab Infinity Blade III. The universal iOS app for iPad, iPhone or iPod touch requires 1.8 GB of free space and iOS 6.0 or later to install.