Submitted by Frank Macey on
Looking to play the highly-acclaimed Infinity Blade sequel without spending $6.99? Chair Entertainment Group has reduced pricing on Infinity Blade II by six bucks, bringing the cost down to $0.99 for a limited time. This is a serious deal, considering that the quality of the game blows away many iPhone and iPad titles available at this price point.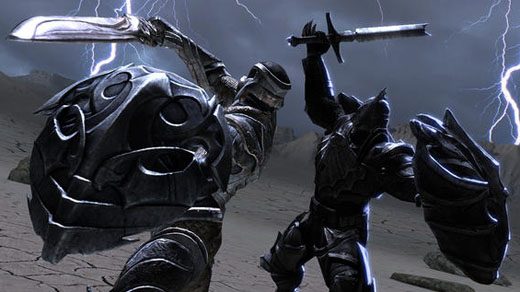 Infinity Blade II is a universal app, compatible with any Apple smartphone or tablet running iOS 4.3 or later. The deal is clearly posted on the Infinity Blade II landing page on iTunes. The description states, "Get it while you can!" without listing an end date for the ongoing sale.

From the plot:
The God King has been defeated, an unlikely hero has emerged and now you must discover the truth behind the secrets of the Infinity Blade. The continuing journey of young Siris unfolds as you delve deeper into the world of the Deathless tyrants and their legion of Titans. Can you unlock all the mysteries and successfully wield the power of the Infinity Blade in this timeless swordplay adventure of champions and villains?
When it comes to gameplay, detailed 3D graphics are powered by Epic's Unreal Engine 3, featuring immersive, dynamically changing environments. First launched in October 2011, Infinity Blade II has over 20 game of the year awards under its belt. ClashMob challenges, iCloud support and HDMI output complete the package, making the sale price a steal.
Just make sure your iOS device has enough space. While the game only costs $0.99, it will clock around 1.1 GB once installed. Get Infinity Blade II from the App Store before the deal expires.