Submitted by Bob Bhatnagar on
Pull down on the iOS 7 home screen and Spotlight reveals an empty text field titled "Search iPhone". While this can be a helpful feature to find something in a hurry, developer DarkMalloc had another idea. Why not make the Spotlight screen even more useful by adding favorite contacts into the mix?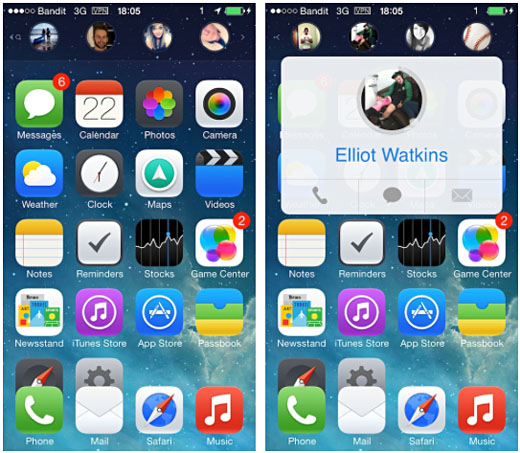 Jailbreakers can grab the tweak QuickContacts for $1.99 and do just that. Once installed, there are no options to configure. The tweak simply adds four contact shortcuts directly to the Spotlight search screen. Pull down on the home screen and the contacts are revealed, then swipe from left to right if you need to use the Search iPhone field.
To begin using the tweak, tap any of the four slots and your Contacts list will appear. Choosing a contact from the list adds that person to the QuickContacts. Up to four contacts can be added in this way. If you're interested in replacing a contact you've already added, just long press on the contact and the Contacts list will appear. Tapping a contact replaces the shortcut.
Once the four contacts are chosen, swipe down on the home screen to reveal QuickContacts and tap the contact you wish to communicate with. Options for calling, messaging and email appear in a dialog box with the contact's picture, if available. Tap the preferred method of communication and a new message, email or phone call will initiate. All of this operates with a polished, native iOS 7 look and feel.
QuickContacts can be found on Cydia in the BigBoss repo for $1.99. Look here for
instructions on how to jailbreak iOS 7.x with evasi0n 7
. You can also find out
how to purchase and install Cydia tweaks with this guide
.