The past week's news revolved entirely around the Worldwide Developers Conference, which kicked off with a keynote presentation on Monday morning. Much of the keynote was devoted to iOS 8, which will be available in the fall, almost certainly with the launch of the iPhone 6 (though they made no mention of the new iPhone during the presentation). Here are some of the notable enhancements of iOS 8: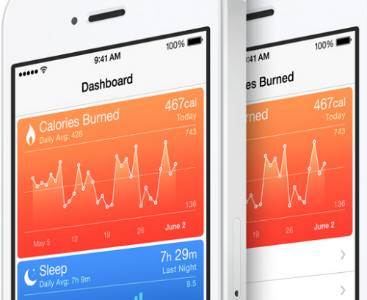 iOS 8 introduces some big improvements to messaging. In group messaging, individuals can drop out of the conversation or choose a "do not disturb" option. Participants can also share their locations with the group. A new "tap to talk" feature allows you to send brief audio clips which can be heard simply by raising the phone to your ear. You can also view all attachments in a conversation in one place, rather than having to scroll back through the entire conversation.
A new Family Sharing option will allow up to six users (on the same credit card) to share App Store purchases with each other. They will also be able to share their calendars, photo streams and reminders without sharing their passwords.
A Health App will provide iOS 8 users with an "easy-to-read dashboard" of their health and fitness data. It will work like Passbook and collect various health related data such as heart rate, blood sugar, calories burned and more.
iOS 8 devices will have a
"Hand Off" feature
that will allow you to pass your work from one device to the next. Say you've started an email on your phone, then you get to your office and want to continue it on your Mac. The devices will detect each other and ask you if you want to continue composing your email on the desktop.
The Photo app can now store photos in the iCloud Photo Library, a safe and convenient way to share your photos amongst your devices. There will also be new editing capabilities in the Photo app.
Siri had a few updates as well. You will now be able to use the digital assistant when it is paired with an automobile by saying, "Hey Siri." Siri also now has a song recognition feature and 22 new dictation languages.
There wasn't much news outside of WWDC 2014, but a rumor surfaced that the 5.5" phablet size iPhone 6 may launch at the same time as the 4.7" model. Most analysts thus far have predicted it to launch several months later, around the holidays.