Submitted by Marshall Walker on
The Apple App Store has been buzzing with a lot of big releases this week. Facebook launched its doomed Snapchat clone, Gameloft released its free RPG, Dungeon Gems, Disney unleashed Star Wars Scene Maker, and last but not least LEGO's Marvel Super Heroes: Universe in Peril landed on the App Store today.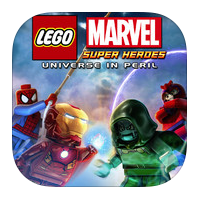 The LEGO action adventure title is a port of the Nintendo DS handheld version released last year. The game allows you to play as Marvel superheroes such as Iron Man, Spider-Man, the Hulk, Captain America and Wolverine as you attempt to stop Loki and other Marvel villains from destroying the world. The game includes over 91 playable characters, 45 missions to complete and both console and touch controls.
Most LEGO games port well to iOS devices, so it is safe to assume that Universe in Peril will also be enjoyable on your iPhone or iPad.
LEGO Marvel Super Heroes: Universe in Peril is available now on the App Store for $4.99. It supports all devices running iOS 7.0 or later.