Submitted by Sammy Snyder on
Things are really heating up for Marvel Entertainment, Guardians of the Galaxy is the highest grossing film of 2014, and the internet is buzzing about Captain America 3 kicking off a Civil War storyline in the cinematic universe. Marvel has also teamed up with Kabam to create an Injustice-like fighting game called Contest of Champions for mobile devices.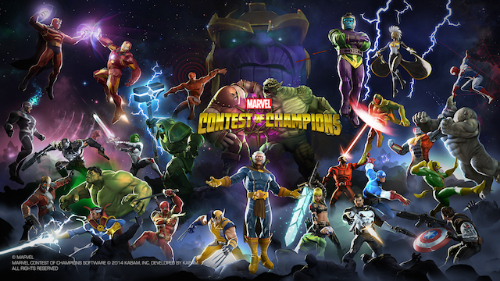 Contest of Champions seems to be loosely based on the 1982 comic book series where The Collector uses various Marvel superheroes as pawns in a battle with The Elder of the Universe, the Grandmaster and Death. Players can create a team of any four heroes from the available 25 in the game to compete in a Quest mode or battle against other players in a Versus mode. The game features the typical fighting game style controls and each character comes equipped with three different special moves / powers.
Marvel previewed the game and released a cinematic trailer at New York Comic-Con over the weekend. The trailer shows the characters Wolverine, Gamora and Deadpool being unlocked from The Collector's personal collection to fight against Kang the Conquer's team of The Punisher, Ronan the Accuser and The Hulk.
Early reviews of Champions seem positive with only a few minor complaints about how players unlock new playable characters.
Marvel Contest of Champions
will be free-to-play on both iOS and Android devices this December. The game will include in-app purchases for unlocking characters and for certain in-game items.
You can learn more by visiting the official Facebook page.