Submitted by Bob Bhatnagar on
Looking for more information when a song or movie is playing on the iPhone usually means opening a web browser or searching in another app. The jailbreak tweak MoreInfo changes this process for iOS 7.x users by automatically searching for the currently playing media. Once an Activator gesture is set to trigger MoreInfo, a long list of search engines can be invoked without even interrupting the song.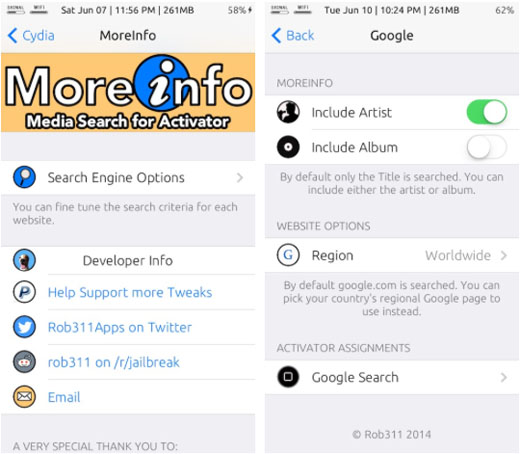 By default, MoreInfo will grab the title of the currently playing media from almost all apps that support music or video playback. Settings can be configured to include the artist name or album to the search as well. Supported search engines include Google, Wikipedia, Bing, Yahoo, DuckDuckGo, iTunes Store, Amazon, IMDb, meteoritic, Rotten Tomatoes, Ultimate Guitar, Allmusic, AZLyrics, rap genius, Discogs, and Who Sampled.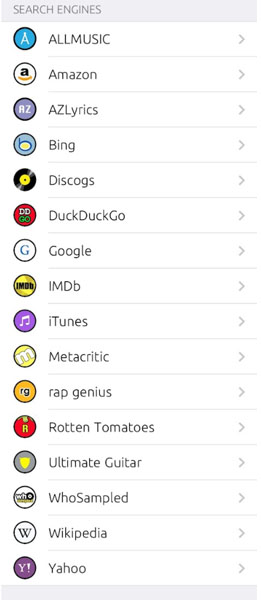 Multiple searches can even be put into one menu by going to Activator -> Menu -> Add New Menu and adding selected searches to that menu. One Activator gesture can then be assigned to this custom menu.
Besides artist and album toggles, MoreInfo settings include language and regional search customizations, and the ability to assign different Activator actions to different search engines. MoreInfo is fully compatible with most music apps, so finding lyrics or other information about a currently playing track has never been easier.
MoreInfo is available on Cydia on the BigBoss repository for $0.99. Jailbreaking iOS 7.1.x is now possible with Pangu. Check here for instructions on how to jailbreak iOS 7.0.x with evasi0n 7. You can also find out how to purchase and install Cydia tweaks with this guide.