Submitted by Bob Bhatnagar on
Usually the only sound an iPhone makes when it plummets to the ground is a crack upon impact. Now thanks to the jailbreak tweak FreeFall the iPhone can scream in horror whenever it's dropped. In fact, the default sound effect triggered by the accelerometer is none other than the Wilhelm Scream.
FreeFall is available free from developer Steven Rolfe's repository at apt.steverolfe.com. Check here for instructions on how to add a new source to Cydia on a jailbroken device. Besides the screaming iPhone trick, FreeFall can also be used to play a custom sound.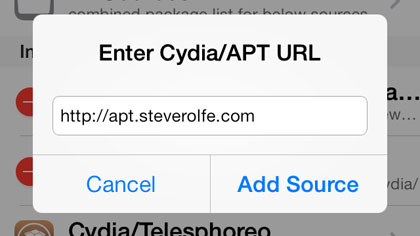 Sound files can be placed in the /Library/FreeFall directory using a utility such as iFile or with SSH file transfer to the iPhone. Once the desired file is in place, it can be selected under Settings -> FreeFall.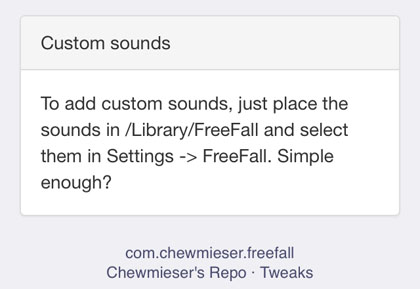 The screaming iPhone trick comes in handy just in time for Halloween. Just make sure to demonstrate FreeFall above a padded surface to prevent real damage!
Jailbreak iOS 7.1.x with Pangu to start customizing iOS. Check here for instructions on how to jailbreak iOS 7.0.x with evasi0n 7. You can also find out how to purchase and install Cydia tweaks with this guide.