Submitted by Bob Bhatnagar on
One of the longer running jailbreak tweaks in iPhone history is LockInfo. For several versions of iOS, this tweak has brought an improved level of information and interaction directly to the iPhone lock screen. In fact, LockInfo actually brought Notification Center to iOS 4, before the feature was officially launched with iOS 5 in 2011.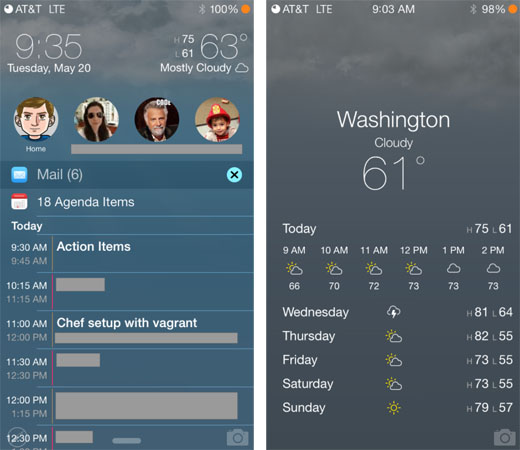 LockInfo 8 now brings all of this functionality and customization to jailbroken iOS 8 devices. Bringing the Notification Center to the lock screen is the tip of the iceberg. Not only does LockInfo make swiping down to reveal what's going on unnecessary, it provides access to additional information with a swipe or tap. For example, swiping left on the lock screen will reveal the weather forecast, right on the iPhone lock screen.
Besides the full weather screen, current conditions with daily low and high temps are always displayed along with the time. Everything is completely interactive, so Mail can be deleted and Messages can be replied to right from LockInfo. The Today view and Notifications view are combined into one seamless display of information. All notifications and widget displays can be collapsed by section, by simply tapping the section title. This helps keep things organized and displays only what's needed at a given time.
Settings provide ample customization options, with nearly endless options for making LockInfo 8 behave in the desired manner. For jailbreakers looking to supercharge the lock screen, LockInfo has provided a healthy option for years.
LockInfo 8 is available from the ModMyi repo on Cydia for $4.99. A two-week free trial is also available. LockInfo users with licenses purchased before July 1, 2014 will be charged $1.99 for the upgrade. To start customizing iOS, click here for instructions on jailbreaking iOS 8.0-8.1.2. Those with older firmware can jailbreak with Pangu (iOS 7.1) or evasi0n 7 (iOS 7.0). Find out how to purchase and install Cydia tweaks with this guide.
Follow the iPhoneFAQ Twitter feed and stay tuned to Facebook for the latest jailbreak tweaks and news.