Submitted by Bob Bhatnagar on
Jailbreak developers are working hard to bring CarPlay functionality to devices running iOS 8. One such project, named CarPlay iOS, is available on Cydia as a preview of what's to come. While the tweak is not sophisticated, CarPlay iOS provides basic Music functionality with the CarPlay interface right on an iPhone or iPad.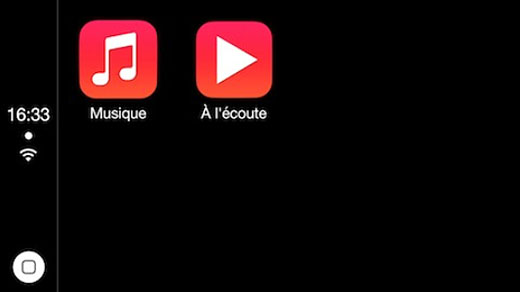 Once installed, a CarPlay iOS app icon will appear on the home screen. Opening this app reveals the main CarPlay screen, in this version limited to Music and Now Playing. Listening to a track reveals oversized, high-contrast play controls. This is the essence of what makes CarPlay useful, providing the operating system for in-dash displays and CarPlay-enabled radios.
CarPlay iOS is a work in progress, and as such right now it's in the French language. While this may be the first CarPlay tweak to hit Cydia, others are also in the works. Developer Adam Bell (Stride 2, MessageBox) is working on a solution known as CarPlay Activator, which already runs Maps, Phone and Messages. More information on the project can be found at this link.
Using CarPlay on a dash-mounted iPhone or iPad could mean avoiding the costs of a new head unit, or a new car for that matter. Of course, the most useful feature of CarPlay is Siri voice control. This means even with a tweak like CarPlay Activator, Bluetooth integration with the car audio system should be used for best results.
CarPlay iOS is available from the BigBoss repository on Cydia for free. To start customizing iOS,
click here for instructions on how to jailbreak iOS 8.0-8.1.1 with TaiG
. Those with older firmware can check
here for details on jailbreaking iOS 7.0 with evasi0n 7
.
Pangu will jailbreak devices running iOS 7.1
. Find out
how to purchase and install Cydia tweaks with this guide
.
For new tweaks and the latest jailbreak news follow us on Twitter and Facebook.