Submitted by Frank Macey on
iOS device owners continue to install iOS 8, with the adoption rate inching up every two weeks. The recent total stood at 73 percent according to the Apple Developer Support page. While this is a one point bump from the stat measured two weeks prior, the number still lags behind iOS 7 adoption. Mid-February numbers for iOS 7 indicated that 80 percent of compatible iOS devices were running the latest firmware last year.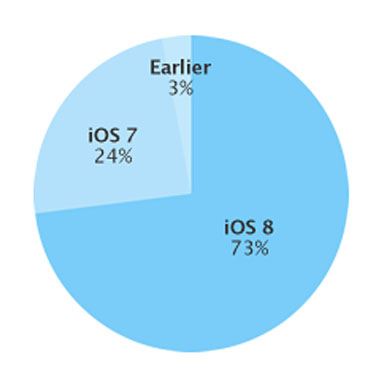 In any case, Apple is set to launch several iOS updates over the coming months. iOS 8.2 will be released in early March, and will primarily focus on the Apple Watch management app and WatchKit for developers. A March 9 Apple media event is expected to highlight the Apple Watch and announce ship dates for the wearable device. Shortly after the event, Apple is expected to launch the first-ever iOS public beta program with iOS 8.3.
According to 9to5Mac, the public beta program will be limited to 100,000 people. Those installing the 8.3 beta will use a dedicated app to report bugs directly to Apple. The firmware update will include support for Wireless CarPlay, Siri enhancements, and new Emoji characters. Apple is expected to make iOS 8.4 available through the same public beta program. The main addition to 8.4 involves a completely new music streaming service.
iOS 9.0 is also on the map already, and this version may be light on new features in exchange for broad optimization and improvements to stability. iOS 9 will be announced at WWDC in June, with a public beta release launching over the summer. The next generation iPhone will no doubt ship with iOS 9 installed when fall arrives.