Submitted by Anders Batten on
There is nothing more annoying than not being able to download an app or make a video because your iPhone is too low on storage. Luckily Apple has made it easier over the years to clean up your device. Here are several ways to make more space available on your iPhone.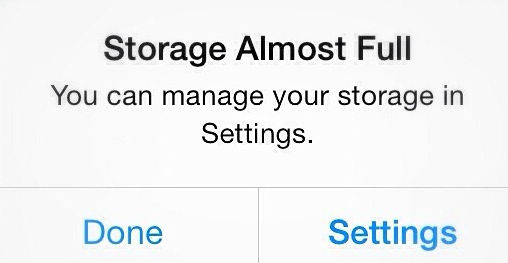 Apps: It is time to part with apps you do not use. The easiest way to do this is to navigate to Settings > General > Usage > Manage Storage. From here you can see a list of apps installed on your device and how much storage they use. To delete an app from the list, just tap its icon and select the "Delete App" option. Deleting unused or unwanted apps is a great way to free up storage on any iOS device. You can also delete apps the old fashioned way from your Home screen if you find that easier.
Messages: Sending photos and videos via iMessage is a lot of fun, but all those attachments have to be stored somewhere. To clean out your iMessages just select an iMessage thread and tap "Details" in the top right hand corner.

You can delete photos and videos from the Details page by scrolling down to the "Attachments" section and pressing down on an image until the options "Copy | Delete | More..." are displayed on your screen. Tapping the "More..." option will allow you to individually select each image you want to delete. Just tap the trash can icon at the bottom of your display to delete all the selected images from your device.
You can also delete individual or all text messages from a thread by following
these instructions
.
Photos: Now that you have cleaned out all those unwanted attachments it is time to freshen up your Photos app. There are multiple ways you can do this. You can use third-party apps that make deleting photos easier like Purrge, delete photos by using your computer or just use the "Moments" section in your Photos app to delete entire days at one time. Don't forget to clear out your "Recently Deleted" folder after deleting photos from your phone.
One of the best ways to keep your iPhone clean is to set up an iCloud account and store your photos there.
Music: After apps and photos, songs are probably one the biggest storage eaters on your device. You can delete individual songs and albums from your Music app the same way you deleted apps. Navigate to Settings > General > Usage > Manage Storage and tap the Music tab on the list of apps. From here you can swipe left on an album to delete it or tap it to delete individual songs from that album.
Safari: If you are really desperate for storage you can clean up Safari from the Usage section of your Settings app. Just navigate to Settings > General > Usage > Manage Storage and tap the Safari icon on the list of apps. From here you can swipe left on "Offline Reading List" and "History" to clear your cache. Cleaning your cache will not remove any content from your Reading List, but it will free up some space.
Voicemail Since you are already spring cleaning why not clear out any unwanted voicemails. To get rid of old voicemails open your Phone app and select "Voicemail" from the options at the bottom of your display. From here you can delete individual voicemails by swiping left on them and tapping "Delete". You will also have to go the "Deleted Messages" tab and tap "Clear All" to delete your voicemails permanently.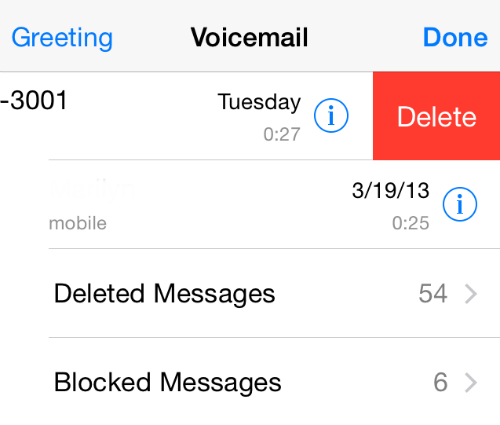 Now that you have cleaned up your phone go back to Settings > General > Usage and see how much storage you have free by checking the "Available" section, which is located right above the "Manage Storage" option.