Submitted by Thomas Estilow on
Would you pay your full cable bill if there was static on the screen all month? Buy a dozen eggs if three of them were broken? How about paying $30 a month for the same service that others get for $20 a month?
This is exactly what I pay for a service I can't use. I love the iPhone 3G, but I can only use the EDGE network. I leave the phone set to EDGE because it works. The moment I switch over to 3G, data latency times shoot through the roof, voice quality decreases noticably, and calls drop every five minutes.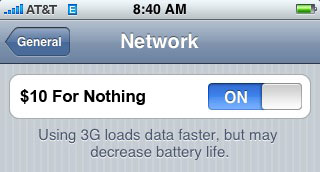 Apple and AT&T both deserve kudos for pioneering such an outstanding new product. I am willing to be patient with their growing pains. The network is going to be a perpetual work in progress. But it's not right to force me to pay for something that doesn't work. See, if I had an original iPhone, my data plan would be $20 a month and limited to EDGE. As it is, I have an iPhone 3G with a $30 data plan limited to EDGE.
I continue to try and use 3G at least twice a week to check up on the network but there has been no improvement. Various customer service representatives at AT&T have listened to my story.
Of course I've updated to 2.0.2. Yes, I've rebooted my phone. A million times. No, not just using the sleep button. Yes, I've held down the home button and sleep button to reset. Nothing works.
Nothing works except for EDGE.
And EDGE works great. I'm so satisfied with the iPhone 3G on the EDGE network that I probably need to get my head examined. So I continue to call AT&T and voice my concerns. Sorry, you own the iPhone 3G hardware and that's the data plan charge, $30 a month. That's just how much it is. I'm sorry, I can't give you a refund. No, you can't switch to the $20 EDGE data plan.
Of course! I must be in an area with limited 3G coverage. Except that I live and work right in the middle of one of the most solidly covered areas on the entire map. Not the problem.
On another call, the customer service rep politely suggested that I could break my contract, (paying a $175 fee to AT&T) locate and purchase an original iPhone (2G), and then sign up for the $20 iPhone EDGE data plan! Thanks, but this doesn't bring me closer to my goal.
Why am I paying a monthly surcharge for nothing? A refund of $10 for the months 3G isn't working is a small price for AT&T to pay to improve customer satisfaction.
To their credit, another representative offered me a $5 refund to cover the day (Sept. 3, 2008) when EDGE went down across a wide swath of the country. I thanked her. It's the principle. Something I paid for didn't work for a while. Even Comcast cable prorates refunds for service that's down. They allegedly have some of the lowest customer service ratings in the corporate world.
I've even received apologies, telling me that AT&T is not intentionally ruining my 3G experience. It's just the way it is. In a month or so everything will be fixed after things sort themselves out and they have more time to work on the 3G towers. So when I turn on the tap and the water trickles, it's just the way it is. Pay your water bill and take showers from a bucket for a while.
I don't mind using EDGE for a while, but... I want my ten dollars!