Submitted by Anders Batten on
If I had to pick one word to describe this week's App Store releases it would be "meh". The only truly noteworthy release was Don't Starve: Pocket Edition for the iPad.
The popular third-party keyboard Fleksy is now a free app. It has also been updated with 5 new summer themes, the ability to add multiple Hotkey extensions and more. You can download the keyboard for free on the App Store.
Bandai Namco released Pixel Defense for Android and Kindle devices, and announced that the iOS version will be available soon. The game is based on the upcoming movie, Pixels, starring Adam Sandler, Kevin James, Josh Gad and Peter Dinklage. Here's the official description of the game:
"Wiith levels inspired by the biggest moments of the film, 'Pixels Defense' challenges players to battle against arcade legends like PAC-MAN, Frogger, and Q*bert, as well as an army of retro icons from games such as GALAGA, Centipede, Tetris, Dig Dug, and RoboTron. Players will take command of the heroic 'Arcaders,' setting them up strategically to defeat wave after wave of enemy invaders before they can pixelate the cities of the world. Each stage features three dynamic difficulty levels to deliver an exciting experience to gaming pros and newcomers alike."
Pixels
will be in theaters on July 24.
Here are this week's most noteworthy games, apps and jailbreak tweaks released to the App Store and Cydia through 07/05/15 to 07/11/15. Card Wars - Adventure Time Card Game is Apple's free app of the week. The game will be free on the Apple App Store until 07/16/15. Don't forget to follow us on Twitter and Facebook to keep updated on all the latest iPhone and iPad news.
Magic Duels: Free for the iPod touch, iPhone and iPad (Requires iOS 7.0 or later) Rated 9+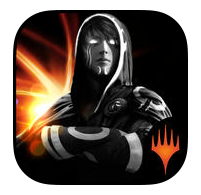 Wizards of the Coast hasn't had much success with bringing its Magic franchise to mobile devices, and it is currently losing out to other digital card games like Hearthstone. The company hopes to change all that with Magic Duels, a new strategy game where players can complete several campaigns which take place in the Magic the Gathering universe. The game features multiple stories based on five different iconic Planeswalkers, and it promises to deliver "virtually endless gameplay" thanks to "regular card and content updates, quests and achievements, multiple play modes" and more.
Star Wars: Free for the iPod touch, iPhone and iPad (Requires iOS 7.1 or later) Rated 9+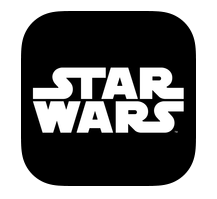 Disney has released a companion app for all things Star Wars. The app keeps fans updated on news and special events. Here are the listed features:
● Get instant notifications on big announcements, including trailer releases and movie news
● Theme your app with Light Side, Dark Side, or Droid interfaces, each containing different designs, sounds, and animations
● Unlock 3D characters from Star Wars: The Force Awakens using a special Augmented Reality camera feature
● Take and share a Star Wars "selfie" in various iconic costumes and settings, including Jedi, Princess Leia (with hair buns), Han Solo's carbon freeze, and more
● Get Star Wars-themed weather and five-day forecasts, featuring original art and parallax effects of in-universe planets and locales
● Wield a lightsaber and hone your skills against a training remote, as seen in Star Wars: A New Hope
● Share animated GIFs with your friends and family of memorable scenes and characters from the Star Wars movies and TV shows, including Star Wars: The Force Awakens and Star Wars Rebels
● Discover behind-the-scenes fun facts with This Day In Star Wars History
● Play classic sound clips and sound effects from your favorite Star Wars characters, creatures, weapons, vehicles, and scenes
● Get quick updates with a snapshot news ticker
● Count down to major releases like Star Wars: The Force Awakens with an always-running timer
● Sign up for Star Wars ID and join the growing Star Wars fan community; choose an avatar, create your own handle, and build a connected profile
● Read official Star Wars news and blogs from StarWars.com, as well as app-exclusive content, including the latest on Star Wars: The Force Awakens, creator interviews, and more
● Follow official Star Wars social channels via aggregated, customizable feeds from Facebook, Instagram, YouTube, Tumblr, Google+, and Twitter
● Watch official Star Wars videos, including movie trailers, behind-the-scenes featurettes, and more
● Discover the latest Star Wars digital apps, products and experiences from one central hub
More App Store Releases *The listed prices are launch prices and are subject to change.
- Don't Starve: Pocket Edition: $4.99 (iPad) The popular PC wilderness survival game is now available on the iPad
- Alpha Star (Premium): 1.99 (Universal) "Pilot the Alpha Star in it's ongoing mission to defeat the enemy squadrons plaguing the galaxy"
- Story Warriors: Fairy Tales: $2.99 (Universal) Interactive story and puzzle game starring that takes place in a classic fairy tale world
- Nono Islands: Free (Universal) Find the lost treasure of Nono Island as you avoid spiders, sharks and more
- Showtime: $10.99/month (Universal) ***App of the Week*** Showtime'smonthly streaming service is now availble on iOS and Apple TV
- Shiver: Lily's Requiem HD: Free (iPad) Another hidden object title from Big Fish Games
- Three Squared: Free (Universal) Based off the board game Rubik's Race
- Jumptuit: Free (Universal) One Login and Search for your cloud services and devices
- Top Jet Trucker Parking Simulator a Real Sports Super Truck Drag Race Car Park Racing Games: Free (Universal) Best App Store title ever
- Tossup: Free (Universal) A Microsoft Garage project that promises to make "event planning and opinion-gathering a cinch"
- Dot Eater Pro: Free (Universal) Official App Store description: "you earn points came on top of other small objects." No comment.
- Stars Wheel: $1.99 (Universal) "Ambient puzzle game inspired by stars, aurora and galaxies"
- Kosmo: Free (Universal) Reach the cosmos using only your jetpack
- MidWayz: Free (Universal) Find an easy and accessible meeting point between two locations
- EnVision: $0.99 (Universal) Add double exposure or color splash effects to images
- Preschool All In One Basic Skills Space Learning Adventure A to Z by Abby Monkey Free (Universal)
- Agar.io: Free (Universal) Popular browser game now avilable for iOS
- Alphabear: Word Puzzle Game: Free (Universal) Original word puzzle game by Spry Fox
- Human Cannonball: Free (Universal) Become the best Human Cannonball in existence
- Down the Mountain: Free (Universal) Descend from an infinite mountain, while avoiding many obstacles and enemies, and grabbing stars and power-ups
- Heroes Reborn on NBC: Free (Universal) – Catch-up on Heroes and free exclusive videos from the comic book inspired TV series
- Mochu Pop Lanterns: Free (Universal) Language immersion for babies and toddlers
New Jailbreak Tweaks
- SwipeSelection and SwipeSelection Pro have received important bug updates this week.
- DathBanners 2 (Free) Change iOS 8 notification banner color
- AntiTheft+ ($1.49) Adds additional abilities, such as taking a photo, to the Find My iPhone feature
- WAQuickReply ($2.99) Adds Quick Reply to WhatsApp
Trailers
Geometry Wars 3: Dimensions Evolved (App Store Link)
Star Wars: Uprising Gameplay Trailer