Submitted by Frank Macey on
Apple first revealed HomeKit almost a year ago, giving both themselves and third-party manufacturers time to develop some interesting home automation products. One of the most straightforward yet essential HomeKit accessories is a power outlet. ConnectSense has entered the game with their Wi-Fi connected Smart Outlet. This dual-outlet plug works with iOS devices running iOS 8.1 or later. Let's take a closer look.
The Smart Outlet
The box contains the Smart Outlet, device PIN number and 4-step quick start instructions. The unit itself has a clean design, with two manual switches for the outlets on one side and a 2.4A USB charging port on the other. Measuring 3 inches by 5 inches, the outlet protrudes just under 1.25 inches from the wall when plugged in. While the Smart Outlet only requires one three-prong grounded outlet for use, its size will hide a standard 2-outlet wall socket.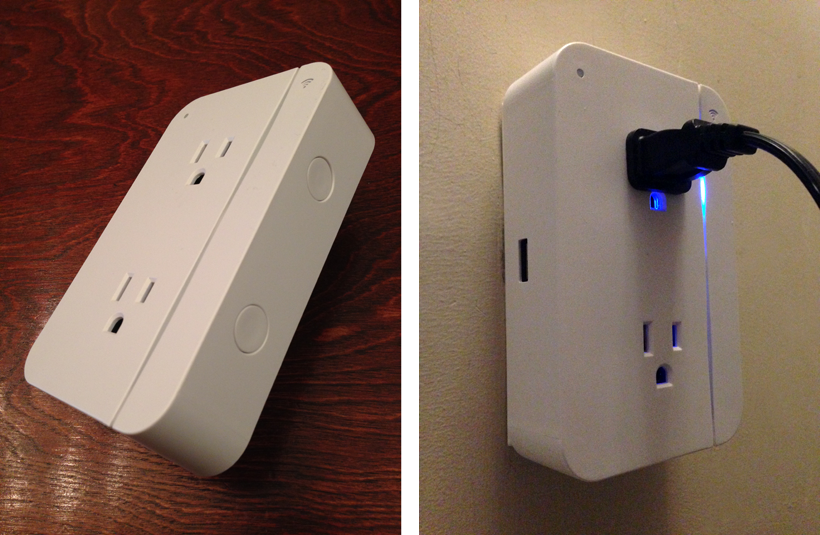 According to ConnectSense, specifications include HomeKit end-to-end encryption, up to 15A total power draw (120 VAC) and support for 2.4Ghz (802.11 b/g/n) Wi-Fi networks. Firmware can be periodically updated on the Smart Outlet via the ConnectSense iOS app. Android devices are not supported.
Easy setup
Pairing the Smart Outlet was a breeze. After the outlet was plugged in, all it took to connect the device to Wi-Fi was a trip to the iPhone Settings -> Wi-Fi screen.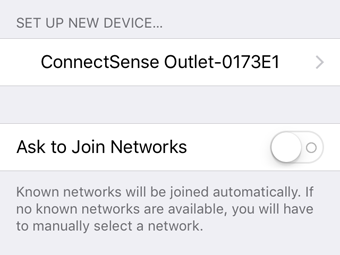 After setting up the new device, it was time to grab the free ConnectSense app from the App Store. The first time the app runs, it will ask permission to access your home data.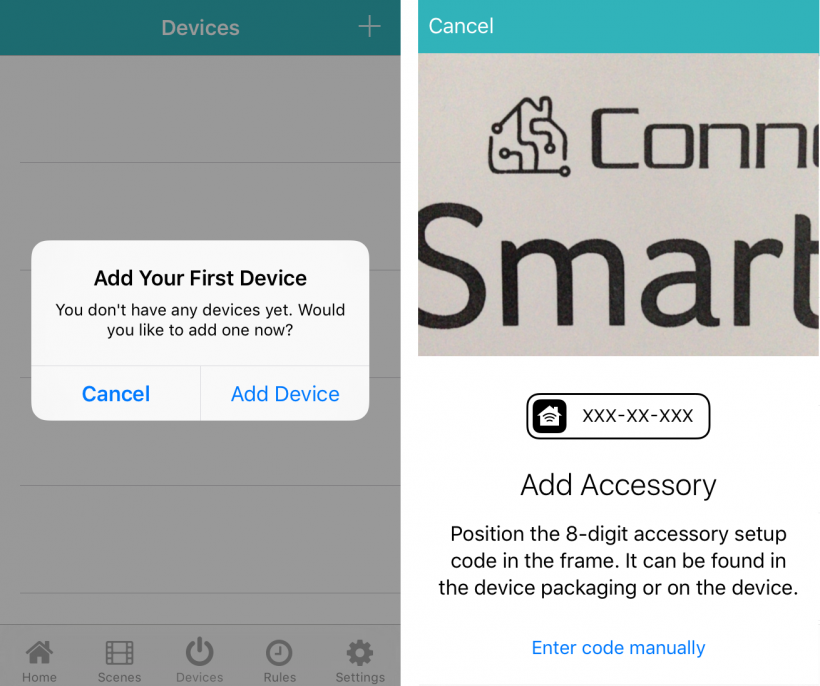 Adding the Smart Outlet requires entering (or using the camera to read) the eight-digit PIN found in the box. Just in case this piece of paper gets misplaced, the PIN is also on the back of the outlet. As soon as the PIN was recognized the app was ready for setup.
With the outlet now paired to the app, the default Siri names "Outlet One" and "Outlet Two" can be customized, along with other options such as room names and specific icons to represent the device plugged into each outlet.
Features
While initially the app may seem complicated, it's clear that ConnectSense has built the software with expandability in mind. This is how it's possible to create pre-programmed "scenes" with multiple connected devices or to control multiple actions with one command. In this case, the Smart Outlet is connected to a single lamp.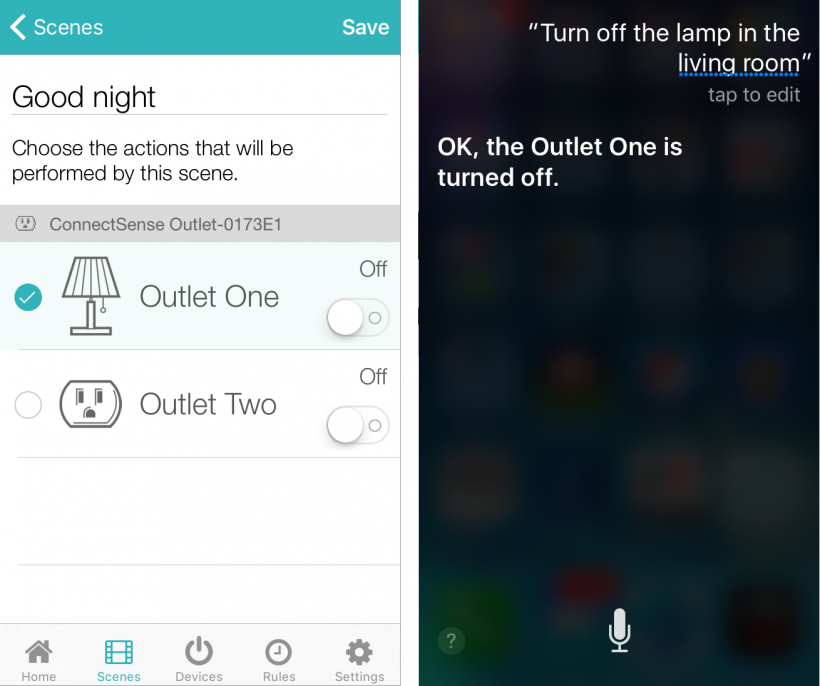 Turning off a lamp from anywhere in the house with your voice does feel pretty futuristic. This is probably the most convenient aspect of the outlet, which ties Siri to specific commands and can control each outlet independently. Scenes can be configured, such as one titled Good night, which will turn off the lamp when invoked. ConnectSense includes 3D Touch shortcuts to jump to different scenes.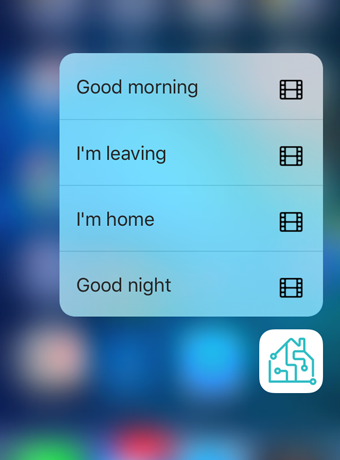 Despite being a home automation solution, the Smart Outlet has some caveats when setting a basic timer. First, the scenes which turn the lamp on and off must be defined. Then a rule must be programmed to activate a scene at a particular time.
Although this process can feel somewhat convoluted, once everything is programmed it works well. Only the rules did not function when the iPhone was disconnected from the Wi-Fi network, thus the lamp remained off. More on this below.
Apple TV functionality
There are two features advertised that need work. For one, monitoring of power consumption is not yet available. While the hardware supports this feature, ConnectSense is working on a software update that will enable power tracking later this year.
Another disappointment was trying to use the Apple TV to control the Smart Outlet away from home. According to Apple support documentation, as long as your iOS device and Apple TV are signed into the same iCloud account, HomeKit devices can be controlled from anywhere. Of course, the Apple TV and Smart Outlet must also be connected to the same Wi-Fi network.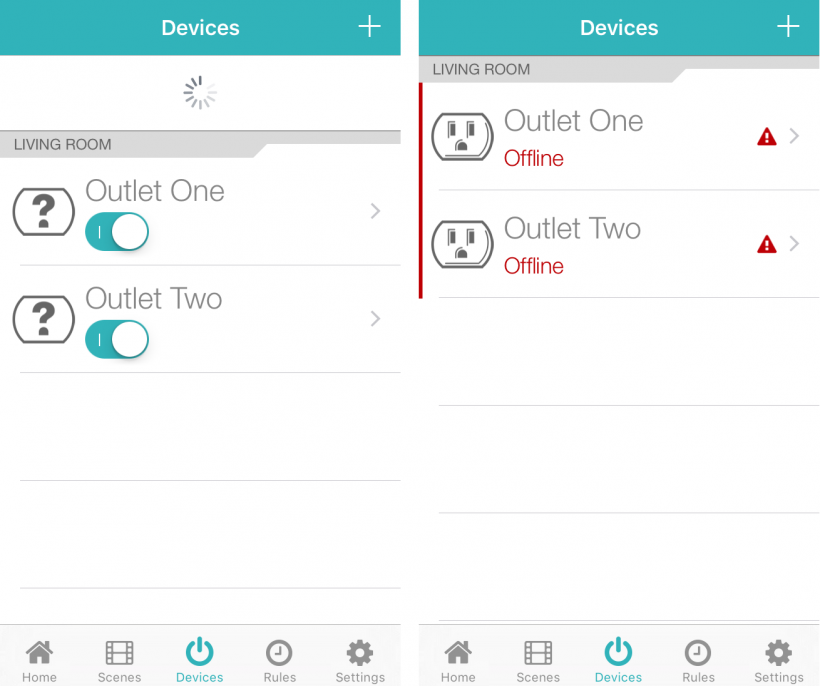 Switching the iPhone's Wi-Fi off simulates leaving home, by initiating a cellular data (LTE) connection. Unfortunately, the Smart Outlet was either unreachable or control was intermittent. When it worked at all, the lamp would switch on and off with a delay, sometimes over a minute. It's not clear if the problem lies with ConnectSense or Apple, however this experience makes it hard to imagine relying on HomeKit to control something critical when away from home.
Should I buy it?
When it comes to the ConnectSense Smart Outlet, this product is a well-designed introduction to home automation. The device is easy to set up and operate, looks great and offers two power outlets. HomeKit will undoubtedly improve over time, and ConnectSense continues to improve the Smart Outlet with firmware updates. Taking the plunge into HomeKit-enabled devices is a personal decision. HomeKit may still be largely in the realm of early adopters, and as time goes on the technology will improve.
Pros
- Easy setup
- Two outlet design
- USB charger built-in
- Expandability in companion app
- Firmware updates offered
Cons
- Control away from home via iCloud, Apple TV did not work
- No power consumption monitor at this time
ConnectSense Smart Outlet with Apple HomeKit Technology can be found on Amazon with Prime shipping available.